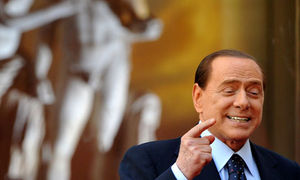 Italian prime minister's quip in response to his party's flagging fortunes brings condemnation from all quarters
Italian opposition politicians have been joined by a leading Catholic publication and even government MPs in expressing outrage after Italian prime minister Silvio Berlusconi joked he was thinking of renaming his political party Forza Gnocca, which translates as Go Pussy.
The criticism came as Berlusconi, whose political career is widely considered to be on the wane, was accused of parking an old friend in a safe job after a former pet food executive was nominated as the new head of the Venice Biennale, Italy's foremost art and architecture exhibition.
Responding to the slide in the polls of his Freedom People party caused by the financial crisis and his sex scandals, Berlusconi reportedly told MPs he had commissioned surveys to find a new name for the party, which started life in 1993 as Forza Italia, or Go Italy.
"Some of polls say the best choice would be Forza Gnocca," he joked, according to the Italian daily
La Stampa
.
Pier Luigi Bersani, the head of the opposition Democratic party, called the quip despairing, while party colleague Rosy Bindi said: "Now the farce is turning into tragedy."
Democratic senator Anna Finocchiaro said: "These are not jokes but a reflection of the view that Berlusconi and his coalition have of the country - backward, vulgar and squalid."
The widely read Catholic publication
Famiglia Cristiana
joined the fray, telling Berlusconi: "If you are not ashamed, we will be ashamed for you. And we will say sorry, in your name, to the whole world."
Berlusconi is currently standing trial in Milan accused of paying an underage prostitute, while prosecutors want to know why he made large cash payments to Gianpaolo Tarantini, an entrepreneur accused of bringing escorts to Berlusconi's parties in Rome.
Actor George Clooney, who visited Berlusconi at his Rome residence in 2008 to discuss Darfur aid work, told
Time
magazine he had not witnessed a "Bunga Bunga" party, but did add: "There are so many jokes, there's so little time."
Berlusconi has used the word gnocca before, describing Margaret Thatcher in 2007 as a bella gnocca.
Berlusconi's latest use of the term embarrassed some supporters, but Alessandra Mussolini, the granddaughter of the Benito Mussolini and a Berlusconi MP called the quip "splendid", adding "it means he considers us protagonists".
Berlsconi was also under fire after his culture minister nominated Giulio Malgara, an old acquaintance of the prime minister's, as the new head of the Venice Biennale.
A veteran of the advertising, pet food, sports drink and corn oil industries, Malgara replaces Paolo Baratta, who has been praised for boosting attendances at the event. "Why is Malgara considered better?" asked former Venice mayor Massimo Cacciari. "Because he is a friend of Berlusconi's?"