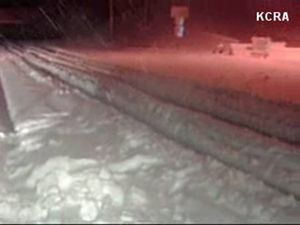 'This is more typical of a winter storm'
Sacramento - An early fall storm stranded big rigs in the Sierra Nevada and snarled roadways throughout California on Wednesday while unleashing gusty winds and snow in the mountains.
Showers hit Southern California, causing scattered fender-benders during the morning commute.
Westbound Interstate 80 reopened through the Sierra Nevada after being closed by stranded big-rigs and spun-out vehicles near Truckee for more than two hours.
"No injuries. But we still have a lot of big rigs stacked up," said California Highway Patrol dispatcher Kim Emery. "They're either waiting or they're chaining up."
Drivers were required to put on tire chains at higher elevations.
"It's a storm similar to early December, but we just got it in early October,"
said Johnnie Powell, a National Weather Service forecaster in Sacramento.
No major damage was reported. Temperatures were expected to return to normal by the Columbus Day holiday weekend.
The Central Valley had a half-inch to an inch of rain, while Redding had 1.77 inches overnight. The Sierra foothills had about 1.5 inches of rain.
Sierra summits had six inches of snow and another six inches to a foot was expected by Thursday.
A storm warning remains in effect until late Wednesday for elevations above 6,000 feet. In the Central Valley and foothills, more showers and a chance of thunderstorms were expected.
"First and foremost, we want people to slow down," California Highway Patrol spokesman Adrian Quintero said.
Pacific Gas & Electric had nearly 2,200 customers without power in Amador, El Dorado, Nevada, Placer, San Joaquin and Yolo counties.
"Cars into utility poles on slick roads, that sort of thing," said PG&E spokesman Paul Moreno. "We're looking to get almost everyone back on by early afternoon."
The Sacramento Municipal Utility District, which provides electricity to Sacramento and part of Placer counties, had outages affecting 1,100 customers when trees and branches collapsed onto power lines or blew fuses overnight.
Power was restored to all customers before dawn after outages that averaged about an hour, spokesman Chris Capra said.
"Things came in pretty quickly and left pretty quickly too, with regards to this being the first rain storm of the year. That's a good thing," Capra said.
In Southern California, the Los Angeles Fire Department had sandbags available for anyone concerned about flooding.
Steve Anderson, a meteorologist for the weather service in Monterey, said, a high pressure system hanging over the Midwest has been making the storm travel farther south when storms would usually be rolling farther north this time of the year. That means leaves were still on the trees when the storm hit.
"The leaves can act as a sail and bring some of those trees down," said Joe Molica, a spokesman for PG&E, which services 9.4 million electricity and natural gas customers in the northern and central parts of the state.