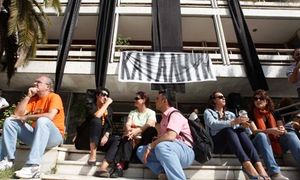 Surprise sit-ins start with civil servants declaring that they had taken over six ministries early this morning
International experts with the task of compiling a crucial review of Greece's fiscal progress ran into trouble before they could even start the job as public-sector workers protesting against wage cuts, layoffs and higher taxes locked them out of office buildings.
Inspectors from the European Union, International Monetary Fund and European Central Bank were greeted on Thursday with banners deploring the "barbaric measures" the so-called "troika" has meted out in exchange for propping up the moribund Greek economy. At the finance ministry - the hub of talks between the debt-stricken country and creditors - protesters shouted "take your bailout and leave" and prevented auditors from entering the building.
"We are sending a loud message to the government and the European Union that we have reached our limits, that it is the workers in our country and especially workers in the public domain who have carried the burden [of cost-cutting policies]," said Costas Tsikrikas, president of Adedy, the union of civil servants.
Following the socialist government's announcement of a new wave of austerity measures last week, the total drop in purchasing power for public-sector employees would exceed 50%, he added.
It was an embarrassing start to discussions that had been suspended in a row over missed budget targets earlier this month. The monitors' review is critical to Greece receiving the further aid needed if it is to avert bankruptcy.
The government, in a step that highlighted lenders' distrust of Greece over a year after it secured €110bn (£95bn) in rescue funds, had been required to outline new deficit cuts in a letter to the EU and IMF before the inspectors agreed to return. The written assurance is believed to have contained a promise that the country would push ahead with privatisations.
But the surprise sit-ins, which began with civil servants declaring that they had taken over six ministries at 7am, meant that Evangelos Venizelos, the finance minister, was forced to hold the talks on the 2012 budget elsewhere."The measures being pursued by the government are totally counter-productive. It is obvious to everyone that they have failed ... all they have achieved is the impoverishment of Greeks," said a member of Adedy's executive board. "These occupations are symbolic but what is not is our determination to overturn policies that have driven us into deadlock. In the last two years 300,000 small and medium-sized businesses have closed and by December we estimate there will be one and a half million unemployed. That's one person per family."
Unions, including Adedy, which represents more than 800,000 civil servants have vowed to step up resistance to the measures. A general strike and other protests have been planned for October.