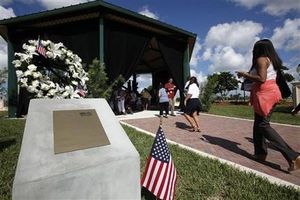 The memorial started with a steel beam salvaged from the World Trade Center - a small piece of the terrorist attacks that the city of Pembroke Pines, Fla., was determined to honor in its own way.
Nobody from this Fort Lauderdale suburb died on Sept. 11. But plans for its memorial grew ever more elaborate - at one point projected to cost more than $1 million - as the years passed.
"It was a glass-enclosed, air-conditioned house," recalled the city's mayor, Frank Ortis. "With a reflection pool and water running down, hurricane-resistant glass. Obviously we couldn't do that."
Hundreds of small memorials to Sept. 11 have bloomed across the country in the 10 years since the attacks. But in many towns, what began as a simple tribute to the dead turned into an expensive headache as the cost of building such memorials ballooned and the economy deteriorated.
Still short of funds, some cities dramatically scaled down the scope of the projects, paid the outstanding bill with public money or abandoned a memorial altogether. Others remain unfinished with no completion date in sight.
The numbers are minuscule compared with what it cost to build the major national memorials: $700 million for the National September 11 Memorial & Museum in New York City and at least $60 million for the Flight 93 memorial near Shanksville, Pa. But like these small towns, even the Flight 93 memorial is still struggling to raise enough money to build its original design - organizers need to raise about $10 million to finish the memorial's first phase and maintain it in the future.
Jerry Sanford, a former New York City firefighter, has been soliciting money since 2004 for a granite memorial in the shape of an American flag to be displayed in North Naples, Fla. Through private donations, he has raised about $600,000 - but he still needs $800,000 more to pay for the granite.
Sanford had been hoping to unveil the memorial in time for the 10th anniversary, but now he doesn't know when it will be completed.
"Times are very different now," he said. "The unemployment is rampant. People are out of work. The economy is bad."
There was a nationwide rush to build Sept. 11 memorials in the first few years after the attacks that has since subsided, said Erika Doss, a professor at the University of Notre Dame and author of the book
Memorial Mania: Public Feeling in America
.
"Once the recession hit, the economic possibilities of doing so went away," said Doss, who discovered about 400 memorials to 9/11 while researching her book. "People still wanted to do it, but it became more and more difficult."
It's impossible to say how much money has been spent on the proliferation of memorials of all kinds across the U.S. - from makeshift crosses on the side of the road to massive monuments - because most are funded through a combination of private and public money.
Memorials weren't always popular in this country, though. In fact, after World War II, monuments were eschewed in favor of "living memorials" like auditoriums and swimming pools named in memory of veterans, Doss said. A construction boom began in the 1980s when the Vietnam Veterans Memorial opened on the National Mall to much fanfare, Doss said.
"It has ushered in lots and lots of other groups demanding that they be represented by a memorial in the public sphere," she said. "People think if they can make a memorial, they can come to terms with what happened."
In Oklahoma City, the memorial to the 1995 bombing of the federal building that killed 168 people receives visitors from all 50 states every month of the year, said Kari Watkins, the executive director.
"They want to remember, and they're looking for the reason why," she said. "They're searching."
After the 9/11 attacks, Dennis Stout, then the district attorney in San Bernardino County, Calif., began an effort to build a pair of memorials to the victims, one east of Los Angeles and a twin in New York.
His nonprofit group, called the Freedom's Flame Sept. 11 Memorial, had a solid start, raising more than $200,000 in its first two years. It picked a design, which depicts people escaping down a staircase at the twin towers while rescuers climb up. They paid for renderings.
But when Stout failed to win re-election, the donations dried up. Now, nearly a decade after the effort began, there is still no memorial. The money is largely gone, too, spent partly on organizing a temporary, traveling memorial exhibit made up of limestone cladding from the Pentagon, a damaged FDNY fire truck and World Trade Center steel. Today they have only around $20,000 left in the bank, out of nearly $262,000 raised.
Stout says he hasn't given up. But he is also realistic about his chances of building the two monuments, which had an estimated cost of $15 million.
"It's a wonderful idea," he said. "But, as you are well aware, there are wonderful ideas that don't get finished every day."
Residents complained about a memorial that was set to open Sunday in the horse-racing village of Wellington, Fla., where officials failed to raise enough money to pay for it and were forced to use about $300,000 from the town budget. Along with a steel beam from the towers, this memorial features a glass-paneled pergola and a fountain with a gas-lit "eternal flame" that will burn day and night.
Matt Willhite, the vice mayor who has championed the project from the beginning, acknowledged that the town has no discernible connection to the terror attacks, but he doesn't think that's the point.
"The comments have been made: 'Well, why would we pay to put this thing in our city?'" he said. "I say, well, why not in Wellington? It's become my life lately, trying to perpetuate the memory of these people."
In Englewood, N.J., which lost two people in the twin towers, Police Chief Michael Cioffi felt compelled to create a memorial in the center of town about two years ago because he was worried that people were starting to forget. He wanted to bring back that sense of unity that enveloped the U.S. immediately after Sept. 11 - that time when American flags flew everywhere, when the country was united, he said.
"It might just bring back a memory," Cioffi said. "It might keep the fire burning."
Yet Cioffi's project has financial troubles of its own: He still can't come up with the $30,000 needed to pay for the granite.
In Pembroke Pines, commissioners finally voted in May to spend about $167,000 on a steel gazebo near city hall that will shelter the World Trade Center beam. Even with private donations, the city was still forced to borrow about $80,000 from its general obligation fund, which pays for road repairs, parks and libraries, among other things.
Officials are hoping they can recoup that money with a new round of fundraisers. The memorial was unveiled to the public Sunday.
"I think it'll be easier to fundraise once they see it," Ortis said. "Some people say we should just forget about it and go on. We didn't think so."