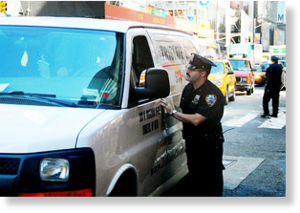 NYPD officials fear would-be terrorists plotting a car bomb attack on the anniversary of 9/11 could be masquerading as construction workers to get close to today's memorial service.
Cops are searching for three stolen vehicles - two belonging to Tully Construction in Queens, a company doing roadwork on West St. near 1 World Trade Center, a police spokesman said.
On Sept. 1, a dark green Chevy van with a 2-inch horizontal stripe and a yellow turret light was boosted from a construction site at the westbound onramp of the Long Island Expressway. Police said the driver left the vehicle temporarily to talk to coworkers when it was stolen.
The next night at 9:30, three men broke into a construction locker at a Tully storage facility on Ditmars Blvd. and loaded roughly $70,000 in tools and construction equipment into the stolen van and another vehicle, NYPD Deputy Commissioner Paul Browne said.
He cautioned that there were no concrete ties to the reported anniversary attack plot.
"This may very well be industrial savvy thieves looking to steal expensive construction equipment, but it's receiving greater scrutiny because of the threat environment," Browne said.
A worker at Tully Construction headquarters Queens who refused to give his name said the company management told employees to be sure to carry ID when they drive around in company vans in case they were stopped by police.
"We are working on 9A right now in front of the World Trade Center. There are guys constantly driving their own cars and company vans on and off [the job site,]" he said. "If somebody's that smart, it's scary. It's kind of freaky to think that someone would think it through that much and plan a terrorist attack like that."
A third van, a white Econoline Budget Rental truck stolen from Liberty Storage in Jersey City on Aug. 20, is also being eyed for possible ties to the bomb threat. Thieves disabled the burglar alarm, cut the phone lines and took surveillance tapes along with the vehicle.
"They made a considerable effort not to be detected," Browne said.
Officials have been on high alert since Wednesday over "specific and credible" information about a plot involving three veteran terrorists recruited by Al Qaeda and carrying U.S. passports. The plot was planned for Washington or New York on the 10th anniversary of 9/11, investigators told the
Daily News
.
One well-informed law enforcement source described the Al Qaeda operatives as a sleeper cell that had been activated in recent days. The plot could involve a car bomb or small aircraft, the source said.
The names of all the men are known to investigators, but they were too common to provide much direction.
A CIA tipster, who has provided credible information in the past, said the men are of Arab descent and may speak English and Arabic, according to sources.
Intelligence analysts have been combing over travel patterns of people who recently entered the country. The men are believed to have originated in the U.S., but recently returned from terror training in Pakistan.
It's conceivable that the men don't even know each other, a law enforcement source said.
While avenging the death of 9/11 mastermind Osama Bin Laden is a terrorist chatter staple, an Al Qaeda operative's conversation, which was intercepted, did not characterize the bomb threat as a revenge attack, the investigators indicated.
The goal, sources said, was to commit mass casualties and mayhem for the memorial event.
Sources theorize that the cell plans to strike a less-protected target as a diversion and then go after a harder target.
Police have been placed on 12-hour shifts on foot patrol, transit, counterterrorism, highway and traffic units.
Security has also been upped for the U.S. Open, today's Mets game and at airports large and small in the region.
The NYPD has been discussing the threat with more than 100 law enforcement agencies in the tri-state area.