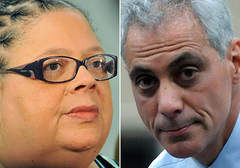 Chicago Teachers Union President Karen Lewis says Mayor Rahm Emanuel "exploded" at her during a conversation in his office about his signature longer-school-day effort, pointing his finger at her, yelling and telling her, "F--- you, Lewis."
"I just want to call it immense disrespect for me and the Chicago Teachers Union,'' Lewis told the
Chicago Sun-Times
Friday. "I didn't appreciate the way he talked to me.
"My father never talked to me like that. My husband's never talked to me like that."
Emanuel - long known for his salty rants - would not go into specifics Friday about the exchange, and said the meeting weeks ago ended with a hug from Lewis.
"I'm not going to get into a he-said, she-said. We had a good meeting. It was not a long meeting. We talked about a longer school day and we talked about focusing on elementary kids," the mayor said.
"To tell the truth, she hugged me at the end of the meeting."
The revelations came as Chicago Public Schools announced William H. Brown Elementary had become the fifth school to break with the CTU and agree to a teacher contract waiver that adds 90 minutes to the school day, starting Sept. 26.
It followed by one day a CTU suit filed with the Illinois Educational Labor Relations Board, charging CPS with coercing teachers into approving waivers and conducting "sham elections" with non-union members.
At some schools, the suit charged, teachers were warned of possible layoffs or school closures if a waiver was defeated. At one, a principal allegedly offered teachers "comp time" and iPads to approve a longer day.
Emanuel made a longer CPS day and year a cornerstone of his campaign and even helped insert language into a new school reform bill to ensure CPS could unilaterally add classroom time after the current teachers contract expires June 30. Until then, schools can only move to a longer school day if their teachers vote to waive the contract - something CPS has said would bring those teachers a two percent pay increase and schools an additional $75,000 to $150,000 in funding.
"If it's right in 2012, it's right now," Emanuel told reporters Friday following a press event with U.S. Education Secretary Arne Duncan and crafters of the new reform law at Schurz High School. "Why would we have the children of the city of Chicago have one more year in which they fall farther behind?"
CTU officials have questioned how the system can afford a longer day after refusing to pay any portion of a previously negotiated four percent teacher raise.
City Council members approved a resolution Thursday offering support to the longer-day effort. Even long-time labor ally Ald. Ed Burke (14th) said he was "starting to get embarrassed" by the response of CTU leaders.
Lewis has contended the union is doing research on how best to add to the school day next school year and she does not want to be publicly "bullied" into a slapdash plan this school year.
The behind-the-curtain intensity of the battle was evident Friday, as Lewis described her meeting with Emanuel in the mayor's office a few weeks ago. Sitting next to her in a chair in front of his desk, the mayor talked about adding 90 minutes to the school day, saying "I can't have kids on the street at 2:15," Lewis recalled.
"I called out what he was doing had nothing to do with education,'' Lewis said. She said she told him, "So this is not about education. This is about safety. ... This is babysitting and warehousing."
At that point, the "craziness" began, Lewis said.
"He [Emanuel] got up out of his chair and started cussing at me." Pressed for the language, Lewis said the mayor told her, "F--- you, Lewis" and dropped other "f-bombs."
Asked if she swore back, Lewis said, "I stood my ground. ... I basically stood up and said 'I was out of here.' I didn't appreciate the way he talked to me. My father never talked to me like that. My husband's never talked to me like that. ... I said 'We need to figure this out. Let's move on,'' and the conversation ultimately continued.
At the meeting's end, Lewis conceded, "I did hug him, but this was pretty intense for a while."
Emanuel has repeatedly said he would like the extra time spent on math and reading.
At Schurz, Duncan, Chicago's former Schools CEO, seemed to call for calm and collaboration in what he described as a pivotal moment for Chicago.
"While you have an opportunity that students have a longer day, more opportunities to learn, teachers should be compensated for that extra work," Duncan said. "This is a no brainer. This is not hard. Let's be inclusive. Let's be thoughtful. Bring folks to the table. Let's get this done.''
Emanuel's hand-picked Schools CEO, Jean-Claude Brizard, said the union's latest legal action "has no basis'' but he hopes he can resume talks with the CTU.
"My sincere hope is to be able to sit with Karen [Lewis] and talk about what's best for the kids,'' Brizard said.