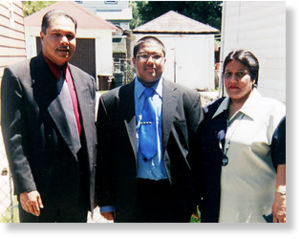 Cops are investigating whether a 23-year-old Queens man played a role in the execution-style slayings of his parents, police sources said.
A cloud of suspicion surrounds Shane Jaggarnauth, who was also shot during what he described as an early morning ambush in Springfield Gardens.
Police said a gunman blasted Jaggarnauth in the shoulder about 4 a.m., piercing the silence of a normally quiet neighborhood. The shooter went upstairs and found a panicked couple in their bedroom before blasting each of them at least once in the head, a police source said.
Sugrim (Jay) Jaggarnauth, 64, and his wife, Rosie, 56, died at the scene on Grayson St. Before the wife died, she made a chilling call to 911, telling a dispatcher she was shot.
"Help," she whispered into the phone, according to a high-ranking police source. "Hurry."
Rosie Jaggarnauth was trying to give her address and the dispatcher was trying to confirm the cross street.
"Then you hear a shot, silence and then some breathing," the source said.
"It was a very disturbing call," the source added.
Shane Jaggarnauth, who has a minor sealed arrest on his record, was taken to Jamaica Hospital in stable condition. No one has been charged. Police said the family's Toyota RAV-4 was missing after the shooting.
Police were also reviewing footage from a neighbor's surveillance cameras for clues. A police source said the gunman can be seen entering the victims' home.
When cops quizzed Shane Jaggarnauth, he said he was out walking the family pit bull, Princess, in the middle of the night. Just as he got back home, a gunman pushed his way into the home. Police suspect Shane may have taken the dog out to keep her from barking at the shooter, sources said. The dog often slept in the couple's bedroom.
One glaring hole in his story, a source said, was his inability to describe the shooter.
"You get shot and your family gets killed, and you don't see the shooter's face, blue jeans, sneakers, nothing? That just doesn't make a lot of sense," the source said.
The motive for the cold-blooded murders - which rocked the working-class neighborhood - remains unknown.
Hours after the murders, the couple's older son, Shawn Jaggarnauth arrived at the crime scene. He broke down in tears.
"My family was shot," he cried. "My parents were killed. I can't believe this. This is crazy."
The older son has eight arrests dating back to 1996, including a November 2010 bust for possession of marijuana and methamphetamine pills. He was also arrested in November 2008 for carrying two bags of crack.
"Whoever did this has to pay for taking two beautiful souls away," said family friend Alicia Haxton, 57.
The Jaggarnauths - originally from Trinidad - appeared to be a close-knit, loving family, shocked neighbors said.
Sugrim Jaggarnauth worked for a printing company in Manhattan, while his wife worked at the Home Depot just blocks away, neighbors said.
Crime is rare in the area.
"The only sirens you hear are the Fire Department," said neighbor and pal Harrison Williams, 64.
"It's shocking. We're all numb," he added.
"There's no justice when something like this happens. They were great people, not just good people."
The family lived in the home more than 20 years and they were getting set to celebrate Rosie's birthday tomorrow.
Stanley Miller, 60, a friend of the couple, said the neighborhood would never be the same without them.
"If they didn't see me for a while, they would come and knock on the door to make sure I'm okay," Miller said. "They were quiet and kind. They're the type of people you'd want to live next to your mother."