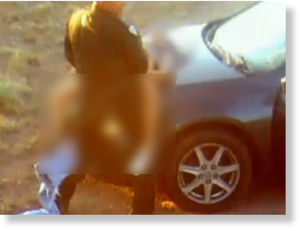 A uniformed on-duty New Mexico state police officer who was caught on camera having sex with a woman on a car hood, embarrassing his department, will not face criminal charges, police said on Thursday.
"At this time we don't believe that any criminal acts occurred," New Mexico State Police Sgt. Tim Johnson said in a statement.
He said the officer involved in the encounter was currently on paid administrative leave and that the case was still "in the disciplinary process" in the department.
Johnson told Reuters that after speaking with the woman, investigators decided the trooper hadn't broken any laws.
"This officer made a horrible personal decision that will obviously reflect poorly on the whole organization," he said.
"The New Mexico State Police is very embarrassed by this incident and will work tirelessly to restore our good name and earn the trust of the citizens back," he added.
Johnson declined to identify the officer. The
Santa Fe New Mexican
newspaper reported that the officer had received accolades for his police work prior to the incident.
Photos of the encounter, which took place in July or August near the entrance to a county-owned ranch south of Santa Fe, surfaced on Monday on the Internet.
The Santa Fe County Sheriff's Department turned the photos, taken by a security camera, over to the state police.