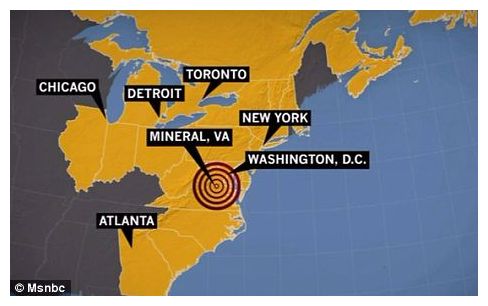 Central Virginia has been shaken by another aftershock from last week's earthquake that rattled the East Coast.
The U.S. Geological Survey reported a 3.4 magnitude aftershock at 5.09am this morning.
The epicentre was four miles south-southeast of Mineral, the town that was the epicentre of last
Tuesday's 5.8-magnitude earthquake.
More than 20 aftershocks ranging from 4.5 to 1.8 have followed the earthquake.
Aftershocks are smaller tremors that take place in the weeks and possibly months following a major earthquake like the one centred in Virginia.
The aftershock occurred as it was revealed that last Tuesday's quake rattled casks holding radioactive nuclear waste at a Virginia plant, moving them as much as 4.5 inches from their original position.
The earthquake, which was felt as far away as Toronto, shifted 25 casks, each 16-feet tall and weighing 115 tons, on a concrete pad at Dominion Resources Inc's North Anna nuclear plant.