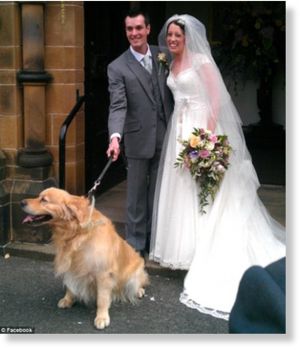 Teacher, 30, suffered appalling injuries to his leg and arm in second fatal attack in two weeks
Frenchman, 36, was just 60ft from the shore when he was bitten
Unclear if British couple were aware of earlier shark attack
Seychelles Maritime Safety Adminstration bans swimming on beaches around Praslin island
Beach voted in the top 10 in the world for 2011
A British honeymooner was killed by a shark in the Seychelles yesterday as his bride watched in horror from the beach.
Ian Redmond, 30, who had been snorkelling 20 yards off shore, suffered appalling injuries to his leg and arm in the second fatal attack in the area in two weeks.
The tragedy unfolded in Anse Lazio on the island of Praslin, regarded as one of the world's most beautiful beaches and a favourite honeymoon destination for thousands of Britons every year.
Mr Redmond and Gemma Houghton, 27, both from Lancashire, married ten days ago.
She was sunbathing when his desperate cries for help echoed across the shore.
Within moments a holidaymaker in a dinghy had dragged him on board and brought him ashore, where onlookers battled in vain to save him.
'We heard screaming and people started running down the beach towards the water,' one American tourist said.
'Someone had seen a fin sticking out of the water, and then we saw a dinghy pulling a man from the water.
'I saw the swimmer, who was missing a huge chunk of flesh from his left leg, so much so that I could see the bone of his thigh. He was sickeningly pale, but still had his flippers on both feet.
'At this point a woman ran over and started screaming. She said: "That's my husband! We were just married".
'Someone grabbed her and tried to keep her away. People all over the beach were just hugging whoever was close to them or trying to keep any children from witnessing what was going on.'
Mr Redmond, who is thought to have died moments after the attack, was taken away by ambulance 20 minutes after being brought to shore. It is believed a doctor holidaying on the island tried to administer first aid.
The witness continued: 'The damage was too great. We kept his wife away from the body because it was too horrific for her to see.'
Jeanne Vargiolu, 56, owner of Le Chevalier restaurant on the beach, said she went to the beach after hearing ambulance sirens to find a French doctor treating Mr Redmond and 'a lot of police officers' surrounding him.
She said police told her he had lost one arm and had the flesh stripped off one leg and had holes in his chest and stomach from shark bites.
Her family have lived on the beach for 36 years and she said the two shark attacks this month were the first she had seen.
'It must be the same shark that attacked 16 days ago', she said.
Chantal Andre, who works at the restaurant, also saw yesterday's attack.
'I went to the hospital with the man's wife and it was just awful,' she said. 'She wasn't crying at all, she just couldn't believe he was dead. I suppose she was in total shock.'
It is understood that the bride's parents are on their way to the Seychelles to comfort her.
Yesterday the authorities had closed many of the beaches and snorkelling spots close to Praslin, one of 115 islands in the Indian Ocean that make up the Seychelles.
And questions were asked about what action was taken following the first fatal attack on a diver just two weeks ago.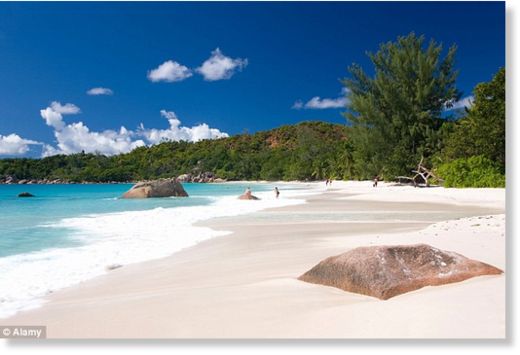 Alain St Ange, director for tourism, said: 'We are taking this very seriously. If there is a rogue shark out there we will try to catch it.
'We have requested shark experts from South Africa to come over to the Seychelles to help us identify the type of shark it could be - but this kind of thing has never ever happened in the Seychelles before.'
It is thought a tooth recovered from the shark may help identify the species.
Minister for home affairs and environment Joel Morgan held an emergency meeting in the capital Victoria last night to discuss what could be done to protect visitors and locals from a shark that some believe may not be native to Seychelles waters.
The most common species around the islands is the whale shark, which feeds only on plankton and microscopic plants.
A 36-year-old French tourist also died after he was bitten by a shark while snorkelling at the same beach on August 1.
Nicolas Francois Virolle was just 60ft from the beach when he was attacked.
Other tourists jumped into the sea to try and rescue him, but he died from massive loss of blood as he was hauled on to the beach.
Mr Virolle was staying at the Britania on Praslin and was due to leave the Seychelles the next day.
Michel Gardette, a development official in Praslin, added: 'I have been diving for the last 40 years and I have never encountered any problems. Sharks are actually very rare because they are hunted for their meat and fins.
Around 19,000 British tourists travel to the exotic Indian Ocean islands each year, many of whom are honeymooners.
This year they included the Duke and Duchess of Cambridge who spent ten days there in a £4,000 a night villa on a private island after their wedding, having flown there in a private jet and helicopter.
A spokesman for the UK Foreign Office said: 'We are aware of the incident and are providing full consular assistance to the family.'
The British High Commissioner Matthew Forbes flew from the main island of Mahe to Praslin last night to offer help to the victim's young widow.
The couple had been staying at La Reserve hotel on the island.