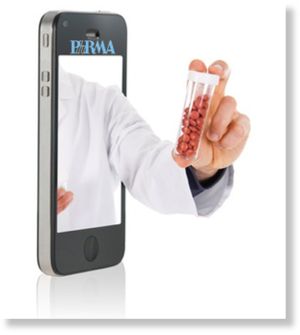 The amount of spending to market Big Pharma's products comes to about $95,000 per doctor per year in the US alone. Now, they're interacting with docs at the point of writing prescriptions.
You've likely seen your doctor using a nifty mobile phone application, called Epocrates, before writing a prescription. Such a clever device - and your doc didn't have to pay a penny for it. But you do. You pay for it in terms of adverse effects, less effective drugs, and money. Lots of money.
Mobile devices are the big new thing in pharmaceutical marketing, and one company now dominates the industry: Epocrates. Clever name that, but it plays on the name of Hippocrates, whose oath includes a statement that a doctor should first do no harm. That oath is shredded by Epocrates' Big Pharma connections and funding by advertisements.
Of the $60 billion spent each year on marketing, according to former Epocrates CEO, Kirk Loevner, $16 billion is spent trying to directly influence doctors. That's $23,333 per doctor per year, and the industry is planning to increase that figure. They do it for one reason alone: it works.
Doctors who claim it doesn't are, at best, fooling themselves. Epocrates says that pharmaceutical companies that purchase DocAlerts return three dollars for every dollar spent. Doc Alerts are thinly-disguised advertisements that physicians must go through before getting to their drug searches. Obviously, these ads are effective in convincing doctors to prescribe drugs.
Epocrates places Big Pharma right at the pharmaceutical decision-making point.
Epocrates is so closely allied with Big Pharma that the current CEO and President, Rosemary A. Crane, came directly from 26 years at Johnson & Johnson and Bristol-Myers Squibb.
Dr. Adriane Fugh-Berman is an associate professor of medicine at Georgetown University and the founder of PharmedOut, a website dedicated to exposing Big Pharma influence and encourage doctors to say to to their goodies. According to the
New York Time
s, she describes the problem with Epocrates:
With targeted ads in Google, you may buy something that's an unwise purchase. But when a physician is influenced in Epocrates, it's the patient who's bearing the financial and health risk.
One would think that doctors would take this into consideration, and refuse to use Epocrates. But the lure of simplifying the job, the mistaken presumption that they are invincible against the Big Pharma ads, and the fact that Epocrates is free to doctors have resulted in more than half of US doctors using it. That's 320,000 out of 600,000 doctors!
Pfizer is the biggest pharmaceutical corporation in the world. Their chief medical officer, Dr. Freda Lewis Hall, told the
New York Times
:
The beauty of the work we do with Epocrates is that we literally put ourselves in the palm of their hand
As Loevner, the previous Epocrates CEO, said:
You have a drug industry that spends $14 billion a year to influence people who prescribe drugs. There are only 600,000 people who are allowed to prescribe drugs, so there is $14 billion spent against 600,000 people. If you have a channel to reach these physicians, it is a gold mine.
Indeed - and Epocrates has hit the mother lode.