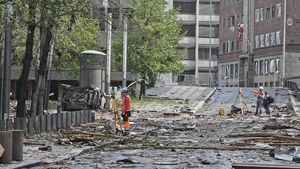 Google Translated from NRK.NO
A Polish man to be arrested in connection with the terrorist attacks in Norway. The owner operates a company that sells chemicals on the internet.
It reports the number of Polish media
Onenet.pl
and
Gazeta.pl
The site is suspected of selling chemicals to the 32-year-old, who he allegedly used to manufacture the bomb he blew up in the government building on Friday.
The police should have been got wind of the site after finding it in connection with Anders Behring Breivik's so-called manifesto in which he describes the process that led up to the terrorist attacks.
On behalf of the Norwegian police
Behring Breivik has admitted being behind the mass killing of members of Labour Youth League summer camp at Utøya and bomb explosion in Oslo, which has claimed many lives.
32-year-old has posted detailed information on the Internet about their preparations for the terrorist attack. It shows that he ordered the goods from the Polish site.
A spokesman for the Polish police, Mariusz Sokolowski, confirming that they have received a request from the Norwegian authorities that they have followed in this regard:
We have acted on behalf of the Norwegian police, says Sokolowski, who is otherwise tight-lipped.
Conflicting information
According to Polish Radio RMF, the arrested man from Wroclaw have been previously known to police and that he was charged with complicity to murder.
Immediately after the radio broadcast this, informed prosecutors in Wroclaw that the man has not been formally charged. Earlier, a spokesman for the prosecutors, Malgorzata Klaus, confirmed that he was arrested.
On Monday afternoon, however, rejects the Polish police to Reuters that they have charged or arrested anyone in Poland after the bomb attack in its ministries.
According to NRK's ​​reporter in Poland, says Polish prosecutors that the man has not been formally charged with anything, but will not say he is released.