With the Norway massacre happening around the same time, we have to wonder if there might be some 'frequency' being broadcast to set off susceptible people.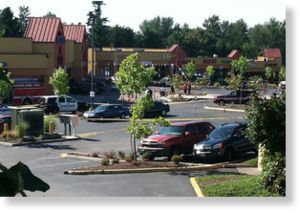 KOMO news reports
"
At least 11 injured in mass shooting at Kent car show
... One witness told KOMO News... 'I saw a lot of people running everywhere, running across the street, then the cops showed up.' ...She said the shootings shattered what had been a 'very peaceful celebration' at a La Raza low-rider car show and concert. Another witness, who was inside a nearby Subway restaurant, said about 200 to 300 people were at the car show when the shooting started. He said he saw people running and heard 10 to 12 gunshots. He hustled people inside the restaurant and locked the doors as shots echoed through the parking lot."
An
article from CBS Fort Worth
reports "A shooter opened fire at a skating rink during a private family event Saturday night,
killing five and wounding four before turning the gun on himself
, Grand Prairie Police spokesman John Brimmer said. Brimmer said a family member attending the private event at the Forum Roller World at 1900 S. Great Southwest Parkway pulled a pistol and started shooting after getting into an argument with his wife. The first emergency call came at 7:15 p.m., Brimmer said. The suspect shot himself in the head and was taken to Parkland Memorial Hospital where he was pronounced dead, said Grand Prairie Police Chief Steve Dye. Including the gunman, six people were killed..."
An
Orlando Sentinel article reports
"
Nine people were wounded in a shooting late Saturday at a house party
near Apopka, authorities said, after an altercation between partygoers escalated to violence. The shooting took place at a home on the 800 block of Piedmont Wekiwa Road. Orange County deputies were called to the scene about 10:50 p.m. Saturday. One drew a handgun, deputies said, and opened fire inside the home. Rescuers hospitalized six partygoers, and three more later checked themselves in for treatment.... Six witnesses later identified one of the teens inside the SUV as the shooter, investigators said. Sheriff's officials said early Sunday they had recovered the handgun used. The names and conditions of those involved were not available. Sheriff's Capt. Denise Demps-Rollins said that of the nine injured, two were in surgery early Sunday. One of those in surgery suffered possible life-threatening injuries..."