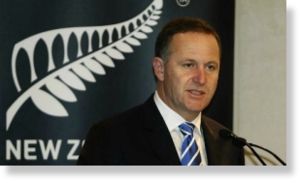 New Zealand PM John Key says investigation uncovered no evidence linking group of four Israelis to the Mossad.
Reports that an Israeli killed in the New Zealand earthquake in February was an intelligence agent were wrong, Prime Minister John Key said on Wednesday.
The
Southland Times
reported that an Israeli who was crushed in a van was found with at least five passports and was part of a group suspected of trying to hack into the police computer system.
But Key said an investigation found no evidence linking the group of four Israelis and their country's intelligence service, the Mossad.
"The unusual circumstances which triggered the investigation was the rapid departure from the country of the three surviving members of the group of Israelis in question," Key said.
"Security agencies conducted the investigation and found no evidence that the people were anything other than backpackers," he said.
Three Israelis who escaped from the van in which their 23-year-old companion Ofer Mizrahi was killed reportedly left the country within 12 hours.
Key said he was told that Mizrahi was found with only one passport belonging to a European country. Another Israeli passport in his name had been handed to Israeli authorities in New Zealand by his travelling companions before they returned home.
"None of the passports were New Zealand passports," Key said.
New Zealand authorities caught several Mossad agents in 2004 and convicted them of identity theft for illegally obtaining New Zealand passports.
Key said he had been assured by police that there has been no unauthorized access to their computer system.
Some media reports also pointed out that Prime Minister Benjamin Netanyahu called Key four times after the quake, which killed 181 people and destroyed large parts of New Zealand's second-largest city, Christchurch.
Key said he spoke to his Israeli counterpart once in the days after the earthquake and said many leaders called to express their condolences and offer assistance.
Such telephone conversations between leaders often require several preparatory calls to set up.
Source: DPA