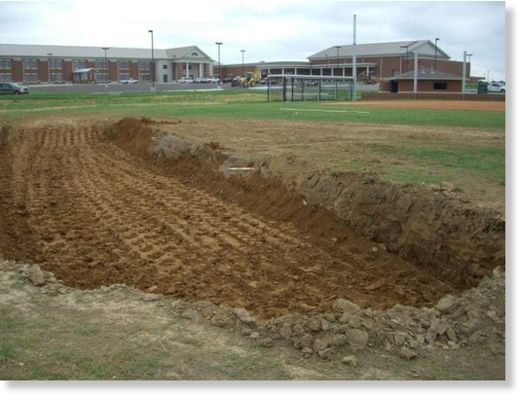 Cause of huge hole at Summit unclear
As crews scurry to finish work on Spring Hill's $40 million Summit High School, workers have found a large sinkhole on one of its athletic fields.
Geotechnical engineers are searching for the cause of a 60-foot-long, 18-foot-wide and 14-foot-deep hole discovered earlier this week, said Director of Construction and Facilities Kevin Fortney.
Fortney described the large sinkhole to school board members Thursday night at their work session, joking that it was not part of the school's swimming program.
Repairing the hole could cost $85,000, Fortney added.
Officials are trying to determine if the sinkhole is naturally occurring or the result of a construction detail gone wrong.
If it's determined that the hole is the result of a construction mishap, repair costs would be the responsibility of the contractor overseeing the project.
Repairs to the sinkhole are under way and may be completed by the end of the week. But it's a bit of a headache for workers who are trying to finish up the school in time for an August opening.
Furniture is being moved into the school, and staff has just made the transition.
Sinkholes are a common phenomenon in Middle Tennessee. The county has several underground springs that run through the bedrock, a factor in creating sinkholes.
After the May flood last year, a 50-foot-wide, 40-foot-deep sinkhole developed on Highway 31 near the interchange with state Route 840 in the northbound lanes. It cost about $132,000 to repair.