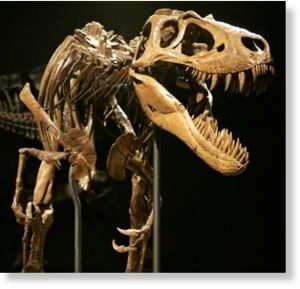 Palaeontologists have found a piece of dinosaur horn which they say is pointing to a catastrophic end for the "Age of Dinosaurs", not a gradual end, as some experts have suggested.
It's been believed that dinosaurs were killed when a huge asteroid smashed into the Earth off the coast of Mexico some 65 million years ago.
Although it is now accepted that a cosmic impact took place at that time, known as the Cretaceous - Tertiary, or K - T boundary, it was unclear if the mass extinctions started gradually before the hit due to volcanoes or other factors.
The reason behind this controversy was a 10 - feet zone in the earth right below the K - T boundary that purportedly lacked dinosaur fossils.
Some experts have claimed this gap, seen in the western interior of North America, was evidence that dinosaurs might have died well before any impact.
Now, researchers have found a fossil in this zone - a dinosaur horn no more than five inches below the impact layer, making it the specimen closest to the end of the Age of Dinosaurs found yet.
The 45cm - long horn, possibly from a triceratops, was found in the Hell Creek formation in Montana.
Just because "we have one dinosaur in the gap doesn't necessarily falsify the idea that dinosaurs were gradually declining in numbers," said lead researcher Tyler Lyson, a vertebrate paleontologist at Yale University.
He said: "However, this find indicates that at least some dinosaurs were doing fine right up to the K - T boundary.
"We need to do more field work to find more dinosaurs within the 3 - meter gap. I am confident that with more field work, we will find more dinosaurs within this interval."
The new findings were published in the journal
Biology Letters
.