Dunfermline has been reacting to the news that a man's body was found in the High Street on Thursday.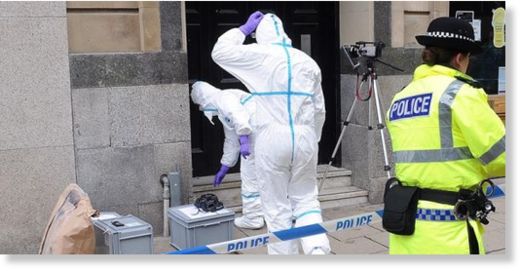 Police are treating the death as "unexplained." It was the third sudden death in the west Fife town in only five days.
It follows the deaths of local men James Drysdale (36) and Derek Neilson (32) on Sunday.
Early-morning shoppers and retail workers in the town centre were shocked to find a huge police presence as Fife Constabulary carried out their investigation work. It is believed the body was found in a close off the High Street at about 6.45am.
The man's remains were found in the alley at 100 High Street, between the Nationwide Building Society and a Mountain Warehouse outlet. Both remained closed for some time as the police inquiry swung into action.
Nearby shoppers and shop workers were only told it was a serious incident.
Fife Constabulary's scene of crime officers remained at the scene into the afternoon.
Heading the investigation is Detective Inspector David McLaren, who told The Courier, "We are in the very early stages of an investigation and at this time we are treating the death as unexplained.
"As we carry out further inquiry an area of High Street, Dunfermline, will remain cordoned and there will clearly be increased police activity."
He urged anyone who has any information that could help police in their investigation to call Fife Constabulary on 0845 600 5702 or Crimestoppers on 0800 555 111.