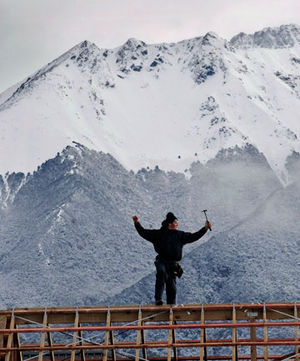 Snow is falling intermittently in Invercargill while heavier dumps are beginning to affect roads and other services across the south.
However, most of the white stuff so far appears to be confined to the Fiordland region and the eastern coast of Southland and the Clutha district.
Warren Dickie, who farms on the Clinton-Matarua highway, said today's snow was not yet as bad as last year's big snow in September. ''Its just a bit cold and slippery, isn't it," he said.
Earlier this morning the snowfall had just been a light dusting on the ground but things changed quickly: "It's definitely ... a lot worse."
If the snow hung around as predicted for the next few days it could become more of a problem, he said.
Motorists appear to be heeding calls to be careful on southern roads, with no incidents reported to emergency services so far.
Te Anau police report a fresh cold snap this morning, with "snow and ice everywhere''.
A heavy snow warning for Fiordland has now been lifted, but showers are expected to continue over most of Southland and Clutha until tomorrow.
Snowfalls of about 10 to 15cm may accumulate in places above 200 metres in these areas today.
Near record falls of snow have already been recorded on State Highway 94 close to Milford Sound, closing a large part of the 120km highway for several days.
The highway may not reopen until the weekend as severe gales are hampering efforts to get the road open again.
In Winton police say although there was ice around on roads, things were not nearly as bad as yesterday morning when black ice made an appearance.
In the Gore area an icy start, was followed by a sunny spell that turned to rain about 10.30am, but the MetService is still forecasting snow for the town.
Northeast of Invercargill snow is still falling.
Kelly Earwaker at the Tokanui Tavern in the Catlins settlement said snow had been falling since about 8am - forcing the closure of the school and was beginning to settle on low-lying paddocks.
At the South Island's most southern tip - Slope Point, in the Catlins - snow had given way to a coating of hail, according to Nadir Outpost owner Beverley Young.
However, the weather had disrupted some services, she said.
"I know the doctors couldn't get here (to Tokanui) from Balclutha today - that was cancelled.''
In the Clutha district, Owaka Valley Rd, between Hazeldale Rd and Hunt Rd, is currently open to four-wheel drive vehicles only because of snow.
Mt Stuart Rd is passable with care.
Motorists are advised to take caution and drive to conditions in all other areas due to ice and snow.
Bridge inspections that had been scheduled to take place and cause traffic delays near Papatowai today and tomorrow have been postponed due to poor weather conditions. Alternative days will be notified in due course.