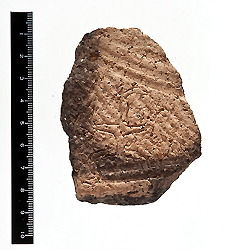 A carving of a dancing shaman has been found on an ancient pottery shard unearthed years ago at an archaeological site in Aomori, making it possibly the oldest depiction of a shaman on an artifact uncovered in Japan.
"It is speculated to be a shaman with a ritual tool in hand, praying and dancing. It is a very valuable find," says Michio Okamura, chairman of an expedition committee for the site.
The shard was uncovered in 1993 from an earth mound near the center of the Sannai-Maruyama archaeological site in the city of Aomori. The shard has been dated to the middle Jomon period, around 4,300 years ago. Last month, a worker noticed that there was a carving of a human on it.
The shard is around eight centimeters tall and six centimeters wide, and the shaman depicted is dancing with a tool in hand and feathers decorating the top of the head, according to Aomori Prefecture's department of protection for cultural properties. The shaman carving is around four centimeters tall and three centimeters wide, and is thought to have been carved with a stick-like object around one millimeter in diameter.
According to the department, depictions of people and expressions of movement are both rare on Jomon pottery. The shard will be on public display at a museum situated next to the Sannai-Maruyama site from July 9 to Nov. 20.