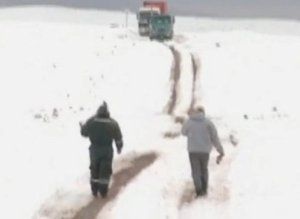 One of the driest places on the planet has just
experienced
its heaviest snowfall in almost two decades.
As the BBC is reporting, the Atacama desert region in Chile was virtually buried with an estimated 31.5 inches of snow after a cold front brought subzero temperatures to much of South America, including Argentina and Uruguay.
Officials from Chile's Directorate of Meteorology said the area had not seen this amount of snow in close to 20 years. Local media reports said authorities rescued a total of 36 people who had been caught in the storm, the Associated Press
reports
.