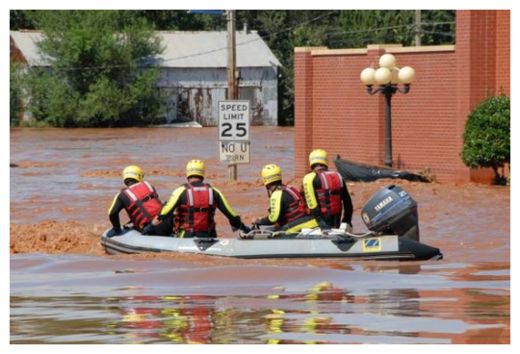 The devastating flooding that has impacted areas around the Mississippi, Missouri and other midWestern and Plains regions won't be letting up anytime soon, and this year's raging waters could rival the historic floods that swept the region in 1993, forecasters said this week.
With
rivers running high
and soils completely saturated, just a small amount of rain could trigger more flooding, including in areas that have already seen major to record flooding, according to scientists with the National Oceanic and Atmospheric Administration (NOAA). The floods could last for many more weeks.
"The sponge is fully saturated - there is nowhere for any additional water to go," said Jack Hayes, director of NOAA's National Weather Service. "While unusual for this time of year, all signs point to the
flood threat continuing through summer.
"
NOAA's Climate Prediction Center is forecasting above-normal rain in most of these vulnerable areas in the next two weeks, and above-normal rainfall in much of the region in the one- and three-month outlooks. Adding to the flood threat will be the rising temperatures over the Rockies, which will release water from the remaining snowpack.
Forecasters say this season's floods could rival the
Great Flood of 1993,
when the upper Midwest endured persistent, record-breaking floods from April through August. The floods affected nine states and caused more than $25 billion in damages (adjusted for inflation).
Many
factors set the stage
for this year's ongoing flood threat, including persistent rainfall last summer and fall, a large winter snowpack across much of the upper Midwest, and an unusually cool and wet spring. Additional snowpack in the higher elevations of the Rockies and further saturated soil in lower elevations and in the northern Plains added to the mix of ideal flood conditions.
The Federal Emergency Management Agency (FEMA) is urging residents to get ready now for severe flooding.
"The flooding that many Americans have already experienced this spring is a crucial reminder of just how devastating floods can be," said FEMA Administrator Craig Fugate. "If you haven't already, visit ready.gov to learn more about how you can protect your loved ones, homes and other properties from flooding, including by purchasing flood insurance."
Throughout the rest of the summer, the highest flood risk areas include:
North Central United States, including Souris River (North Dakota) and Red River of the North (border of North Dakota and Minnesota), Minnesota River (Minnesota), Upper Mississippi River (Minnesota and Iowa), and Des Moines River (Iowa)
Lower Missouri River from Gavin's Point (Nebraska and South Dakota border) downstream along the border of Nebraska and Iowa, continuing through the borders of Kansas and Missouri then through Missouri to the Mississippi River
Tributaries to the Lower Missouri including the James and Big Sioux Rivers in North Dakota
Lower Ohio River Valley including the White, Wabash and lower Ohio River
East of the Rockies: North Platte River in Colorado, Wyoming and Nebraska and Yellowstone River in Wyoming and Montana
West of the Rockies: Utah and Colorado