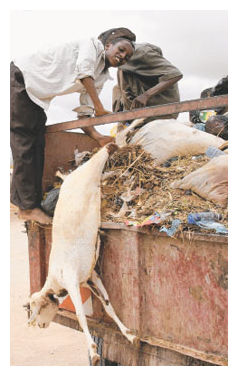 With the UN warning that both East and the Horn of Africa have been hit by the worst drought in 60 years, international aid agencies have warned of an alarming gap in the food pipeline to reach those most in need.
More than 10 million people are thought to be affected across the East African region.
The UN says that large swathes of northern Kenya and Somalia are now in the "emergency" category, one phase before what is officially classified as famine.
"Two consecutive poor rainy seasons have resulted in one of the driest years since 1950/51 in many pastoral zones," Elisabeth Byrs, spokeswoman of the UN Office for the Coordination of Humanitarian Affairs, told a media briefing this week.
"There is no likelihood of improvement until 2012." Child malnutrition rates in the worst affected areas are more than double the emergency threshold of 15 per cent and are expected to rise further, Byrs said.
Of mounting concern to aid agencies is the news that humanitarian appeals for Somalia and Kenya, each for about $525 million, are barely 50 per cent funded.
Mr Prasant Naik, Save the Children's Kenya country director described how "rotting animal carcasses dot the road" across many parts of central and northern Kenya.
"Animals desperately seeking water and food are collapsing in exhaustion and the local community cannot clear them fast enough," he added. "There is not even enough meat left on the carcasses to eat."
The sight of dead camels is particularly significant, Mr Prasant said, because they are prized within pastoralist communities as vital to their livelihoods.
Serious shortage
"As the Save the Children's Kenya country director, I've seen this before," Prasant says. "Frequent droughts ravage the region. Rains are expected, and fail.
"And now there is a serious shortage of water and food for children and their families, leading to widespread devastation of farmland, failed harvests and livestock death.
"Families have lost their incomes and food supplies. Food and water prices have soared. The ground has cracked here, and swathes of brown land has replaced green.
"Pastoralists are used to coping with occasional droughts and dry seasons, but these successive droughts have pushed their resiliency to the limit.
"Families are eating only one meal a day at most, and the cheapest food they can find. Without proper, nourishing food, families are weak and vulnerable to disease."
Now the UK-based aid agency Save the Children is urgently appealing for more funds to reach the most vulnerable children.
NGOs warn many moderately poor households have been pushed over the edge.