Mesa - Thousands of East Valley residents are without power after a transformer exploded at a Salt River Project facility in Mesa.
SRP spokesman Scott Harrelson confirm approximately 35,000 customers in Mesa and Apache Junction are affected by the outage.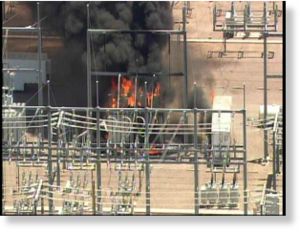 Because of the fire and transformer outage the rest of the power grid is stressed, which has caused the loss of power across parts of the East Valley.
It is unclear at this time when power is expected to be restored.
SRP officials are also working to resolve an issue with their phone system, according to a tweet from the company just before 3 p.m.
The fire sent a thick plume of black smoke into the sky Thursday afternoon, and forced employees from the East Mesa Service Center near University Drive and Sossaman Road, according to fire department spokesman Forrest Smith.
Power was shut off to nearby transformers and a truck arrived at the scene and began spraying foam onto the flames just before 1:25 p.m.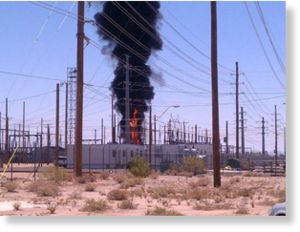 Harrelson told ABC15 a transformer exploded and what is burning is mineral oil used to cool the transformer. He said the oil is not toxic and will not pose a health risk.
Stay with ABC15.com for updates.