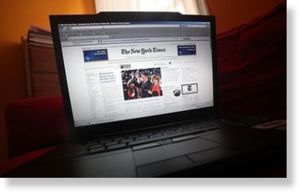 Pulitzer Prize-winning journalist James Risen has been subjected to government surveillance and harassment that began under the Bush administration, according to a 22-page affidavit he filed Tuesday.
In his 2006 book,
State of War: The Secret History of the CIA and the Bush Administration
, author and
New York Times
reporter James Risen describes a CIA effort to thwart Iran's nuclear ambitions by secretly providing them with faulty blueprints. In the end, a Russian defector working for the CIA exposed the plot.
Risen was subpoenaed twice to testify about his sources. The first grand jury was dissolved before he could be forced to testify. For reasons that have not been revealed, U.S. District Court Judge Leonie Brinkema quashed the second subpoena last year.
ABC News reported
Risen's affidavit claims that the government monitored his ingoing and outgoing phone calls to expose his confidential sources.
"I believe that the efforts to target me have continued under the Obama administration, which has been aggressively investigating whistleblowers and reporters in a way that will have a chilling effect on freedom of the press in the United States," Risen said.
Early this year, authorities
arrested former CIA officer Jeffrey Sterling
and charged him with six counts of unauthorized disclosure of national defense information and one count of unlawfully keeping national defense information, mail fraud, unauthorized conveyance of government property and obstructing justice.
The U.S. Justice Department
subpoenaed Risen in May
to testify at the criminal trial of Sterling, who was allegedly cited in Risen's 2006 book.
The Justice Deparment claimed that Risen should be compelled to provide information "like any other citizen" and that he was not "being harassed in order to disrupt his relationship with confidential news sources."
With prior reporting by David Edwards.