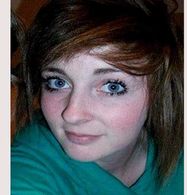 A schoolboy murdered a former girlfriend after he was promised a free breakfast if he carried out the killing, a jury heard today.
Rebecca Aylward, 15, of Maesteg, near Bridgend, south Wales, was battered to death within weeks of the chilling bet with a friend.
Her alleged killer, 16, lured her to a secluded wood near Bridgend where he smashed her head with a rock, the court heard. To divert suspicion from himself, he had previously told her to let it be known she was meeting someone else.
But she failed to follow his directions and told her mother the name of the person she was meeting, the jury heard.
Greg Taylor QC began today by handing the Swansea Crown Court jury a list of terms used in texting and on MSN and Facebook.
Evidence from all those sources will play a key role in the prosecution case of what he called a "teenage murder".
"There is no doubt that Rebecca Aylward was murdered," he said.
"She was hit a number of times to her head with a rock in a forest at Aberkenfig.
"It was raining and she was left for dead lying face down on the wet forest floor in new clothes that had been bought for her the day before.
"The prosecution say that the boy who sits before you here committed this murder.
"The defence say that he had nothing to do with it and that Rebecca was killed by his best friend."
He added: "The question for you is who did it?
"The prosecution say that there is absolutely no doubt that he did it."
The teenager denies a single charge of murder on October 23 last year.
Mr Taylor said the teenagers had briefly been in a relationship about a year before the murder and had kept in touch.
The defendant used to meet every Saturday at a local cafe in the area with teenage friends where they had breakfast together.
At one such meeting he openly discussed killing the girl, his friends assuming he was joking.
They later told police he had a reputation for saying he was going to do things he never subsequently did.
But in a later text to one friend he asks: "What would you do if I actually did kill her?"
The friend replies: "Oh, I would buy you breakfast."
Mr Taylor said: "It is difficult to know, isn't it, if someone could be serious about something like that."
But the subject of the murder became a regular text topic between the friends.
Two days before the killing the defendant contacted his friend to confirm he would attend their breakfast date.
He adds:
"Don't say anything but you may just owe me a breakfast."
The friend replies:
"Best text I have ever had mate. Seriously, if it is true I am happy to pay for a breakfast."
The defendant adds: "I hope by then it will be done and dusted."
The friend replies: "I want all the details. You sadistic bastard." The text finished with a smiley face symbol.
The teenager adds:
"Large breakfast with extras of everything."
His friend replies: "Sick, sick boy."
Mr Taylor outlined the events which he said led to the murder.
He said Rebecca met the defendant in Aberkenfig on the day of her death. He said the boy came directly from friends he had breakfasted with.
He led her into a densely wooded area in the town while still keeping in touch by text with his friends, Mr Taylor said.
When they asked him whether he was with her
he texted back asking "define with"
, the court heard.
Mr Taylor said the defendant later called the friends to join him in the forest but only his best friend continued to the murder scene.
He would later tell police in an interview how shocked he was to discover the girl's dead body.
He said the defendant had asked: "Do you know how hard it is to break someone's neck? I tried and it is hard work."
Later the defendant is said to have explained to two friends: "She was facing away from me and I thought I would go for it. She would not stop screaming and I picked up a rock.
"The worst part of it was feeling her skull give way."
The teenager is then alleged to have told both his friends to delete all of their text messages and that he would delete his.
He allegedly explained that nobody would know he had been with Rebecca because he had told her to tell her mother she was meeting someone else.
Later the boys were to discuss on Facebook the fact that the schoolgirl was now missing and express sadness.
The court heard the defendant had later changed his Facebook profile to say that he was with two named friends and about to watch a film on TV.
"As if to say 'nothing special has happened today and here I am this evening watching the television with friends'," Mr Taylor said.
He said police were alerted to where the Rebecca's body was when the parents of one of the teenagers called them after he broke down at home.
Police tracker dogs located the body and quickly singled out a rock as being the murder weapon.
Forensic testing established it had hundreds of fibres from Rebecca's coat on it and also fibres from the defendant's jacket.
A post-mortem examination of the victim's body showed she had died from blunt injuries to the head which had broken the base of her skull in four places.
"In short, she had had her head smashed in," Mr Taylor told the jury.
The trial, which is scheduled to run for up to five weeks, was adjourned until tomorrow.