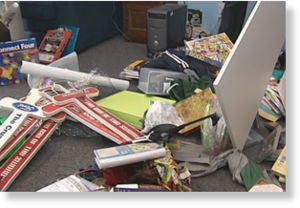 Last night another wave of violent tremors shook Christchurch residents again, and disrupted exams for some university students.
The most violent earthquake - 5.4 - hit just after 10:30pm, scaring the wits out of exhausted Christchurch residents.
"For us it wasn't a rolling, it was very sharp upheaval and really threw everything up and dropped it on the ground," says Peter Claridge.
Mr Claridge lives directly above the epicentre where the quake hit
"It emptied everything out, including the nails," he says.
Inside, bookshelves are thrown to the floor and split open.
"It felt really close and was just so violent, and everything was shaking all around," says Jake Claridge.
Fifteen-year-old Jake was spared injury when his bedroom cupboard spun and twisted off the wall, crashing to the floor.
"It was just so scary, everything was shaking, things were flying everywhere, and just no idea what to do," he says.
"Just sit there, it's all you could do, it was so scary."
Last night's earthquake was thought to have occurred way over the hills near Akaroa. They said it was a 5.3, down 12km, but have upgraded it today to 5.4.
In Leadleys Rd the aftershock rattled nearby shop shelves, Halswell's New World supermarket taking a direct hit - stock is now destined for the land fill.
"Basically down each aisle with the shovel and straight into the bin," says owner Kelvin Gray.
"We don't attempt to try and save anything, there is too much muck and glass to bother trying to save."
Staff spent 'til 4am mopping up the mess.
"The glass jars have come down, and the splatter has gone up over the product and underneath here," says Emily Taylor.
Last night Canterbury University students were evacuated from their halls of residence for five hours, missing today's exams.
"I got back into my flat at about 3am and had to wake up at 7am, for an email saying whether our exam was on or not," student Ali Palmer told 3 News.
As the tremors continue, nerves are starting to go.
"I've had enough of it and I understand why people are leaving, and I can't blame them," says Mr Claridge.
His family is staying around cleaning up yet again.