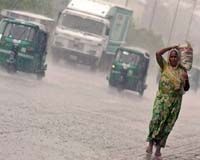 Kolkata: Seven people have died in 24 hours in rain-related incidents as West Bengal continued to be in the grip of monsoon's fury. Train services in Asansol have been disrupted following a landslide near Kala Pahadi.
Meanwhile, the coast guards have been searching for three trawlers and 45 fishermen who went missing in the Bay of Bengal on Friday.
Officials suspect they may have strayed into Bangladeshi waters. Indian authorities asked the Bangladesh government to give them shelter.
Meanwhile, heavy rain wreaked havoc in Orissa as well as two people were swept away in the overflowing Baitarani river. Earlier in the week, two others had died when a wall collapsed after heavy rainfall.
.