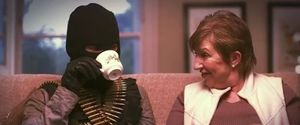 Enemy forces may be reading your tweets.
That's the message of a new British campaign warning against careless social media sharing, especially for military personnel and related family.
"Remember that there may be those who are using such sites for unsavory reasons," the site for the campaign reads. "These range from criminals looking for ways to con you or steal your identity, to those who may wish us harm."
In one of the videos from the series, an elderly mother is shown sharing information on Facebook about her military son, then sitting down to tea with a masked man strapped with bullets. Another video shows two young women officers going out to dance, after using Foursquare and Twitter to broadcast their activities, and are then seen dancing with the same ominous figure.
"You need to be especially careful if you have identified yourself as being a member of the military or an MOD civilian," the site says.
While the site warns that cybercriminals could be waiting in the wings, it also points out the risks associated with posting information regarding troop movements, operational doings, and more.
"We do not want to scare service personnel, families and veterans and we certainly do not want them to stop using social media," a Ministry of Defense spokesperson told BBC News."You don't always know who else is watching in cyberspace."
The Telegraph
notes that the campaign recalls similar messages delivered during World War II, such "Loose lips sink ships."