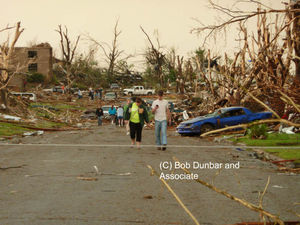 The number of confirmed cases of a rare, sometimes deadly fungus that has sickened survivors of the Joplin tornado has risen to 12, according to the federal agency that is investigating the disease.
Five people with the fungal infections have died, but Kristen Nordlund, a spokeswoman for the U.S. Centers for Disease Control, said it was unclear if the five are included in the 12 confirmed cases or in addition to them.
A team of investigators from the CDC is in Joplin trying to pinpoint whether there are common risk factors associated with people who got the infection, called mucormycosis. They expect to be there about two weeks.
Mucormycosis might have a fatality rate of 50 percent or higher. The spores can infect people with traumatic injuries, but the fungal infections are rare in healthy people, and clusters of them are even rarer.
Health officials have not said if the infections have been tied to a specific species of fungus.
With survivors sent to various hospitals, it has been difficult for media organizations to try to track the number of infections. One doctor had previously put the number at at least nine.
The Springfield-Greene County Health Department on June 6 sent a memo to area health providers warning them to be on the lookout for the infections.
Katie Towns-Jeter, a spokeswoman for the health department, would not say what hospitals were involved or how many people had been infected, citing a federal privacy law governing the release of medical information.