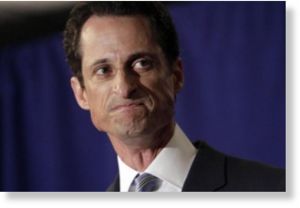 In the aftermath of Anthony Weiner's rambling, tearful press conference at the Sheraton Hotel, the immediate question was not whether the New York Congressman could survive in office, but how long he could hold on.
That his career was over was taken for granted, following the bizarre, half-hour long public therapy session, in which he owned up to sending pictures of himself in his underwear, in varying states of arousal, to six different women.
"Over the past few years, I have engaged in several inappropriate conversations conducted over Twitter, Facebook, email and occasionally on the phone with women I had met online," he admitted. He apologised to his wife, his supporters and everyone he had misled in a series of brazen denials since the first image surfaced. "I don't do drugs, I was not drinking, that wasn't the cause of this. This was me doing a dumb thing, and doing it repeatedly, and then lying about it."
Although he refused to resign, saying his constituents would have the last word, he looked like a beaten man as he stalked from the room, pursued by a Fox News reporter persistently asking: "Were you fully erect?"
A fortnight ago, Weiner was a strong candidate for Mayor of New York in 2013. He is now a pariah, a political casualty thrown under the bus by his party. Leading Democrat Nancy Pelosi, formerly Speaker of the House, has called for an ethics committee investigation into his conduct. Colleagues have rushed to condemn him, putting pressure on him to stand down.
Long before he exposed himself, Weiner was overexposed: a left-wing firebrand enamoured of his own image, forever on cable news programmes, and renowned, ironically, as a master of using social networks to get out his message.
On his discontinued Facebook account, he had 45,000 friends. In his moment of crisis, his few congressional allies have deserted him.
Republicans are relishing his slow-motion downfall. In the
National Review
, Michael Walsh wrote that Weiner's "combination of unctuousness, mendacity, mock-reasonableness, petulance, bullying, hypocrisy, overweening arrogance, brazen aggression, self-pity, victimhood, and bogus moral preening" is characteristic of Democratic liberalism. Glenn Beck suggested that Weiner's compulsive risk-taking placed other people in harm's way.
"You're telling me that that man didn't endanger the life of his wife?" Beck said. "Didn't endanger the lives of people around him, people of Congress, information of the United States?"
Unlike other politicians ensnared in sex scandals, Weiner has not been exposed as a hypocrite. He did not preach family values and get caught paying for sex, like Louisiana Senator David Vitter. He did not crack down on prostitution, only to get caught using an escort service, like former New York Governor Eliot Spitzer. Nor did he misuse campaign funds, as former Senators John Edwards and John Ensign are alleged to have done, to cover up an affair. New Yorker columnist Hendrik Hertzberg observed that Weinergate is "the first entirely virtual political sex scandal, the first to have been conducted entirely via email and online social media".
Distressingly, for such a cock of the walk, Weiner has become a figure of fun, thanks in no small part to his name, an American euphemism for the very thing he was so keen to show to complete strangers. Weiner Exposed, read one headline, Weiner's Pickle, another.
The New York Post
went with Disgusted Democrats Letting Weiner Shrivel.
On
The View
, Barbara Walters and Elisabeth Hasselbeck speculated whether the most graphic photograph was a genuine Weiner self-portrait. "Anthony Weiner has not denied it," Walters pointed out. "Then it must be a flattering photo," suggested Hasselbeck. "Let me tell you something," Walters said. "It is." Although this may soothe the Congressman's ego, mentions of his lunchbox on daytime television do nothing for his image as a statesman.
Conservative agitator Andrew Breitbart is adamant that the scandal is about more than a reckless politician's sexual fetishes. "I believe that when you have those type of photos and you are sending them out to people you don't even know, you are putting yourself into blackmail territory. And when these guys have national security secrets, I have a deep problem with it," he said.
Breitbart was the first to circulate a photograph of Weiner's appendage, straining against grey boxer shorts. Because in the past his exposes have frequently turned out to be egregious distortions (his website, Big Government, ran one sting in which a reporter posed as a pimp and another that, through selective editing, made a black Department of Agriculture employee appear to be racist) the mainstream media was initially reluctant to follow up. But as Weiner tried to tough it out, the story metastasized, from one relatively innocent crotch shot into a tale of phone sex and misuse of government property featuring a porn star and a blackjack dealer from Las Vegas.
Gennette Cordova, a student from Washington State, was the first acknowledged recipient of one of Weiner's racy snaps. On May 27, he mistakenly uploaded a picture, intended for her, on Twitter. Although he later described this as "a joke", it soon became clear that it was part of a pattern of sexual misbehaviour.
Weiner claimed his Facebook and Twitter accounts had been hacked, and over the next few days, as television news caught up with the story, made increasingly bold denials. "This is a prank - not a terribly creative one - and it's a distraction," he told CNN. "I didn't send that picture out," he insisted on MSNBC. When CNN anchor Wolf Blitzer asked if he recognised the underpants in the picture, he replied "it certainly doesn't look familiar to me".
This position became untenable when the next batch of pictures emerged: Weiner topless, his face clearly identifiable, plus another of him posing with two cats, self-captioned "me and the pussys".
There were more women, too. Lisa Weiss, a Nevada casino worker, backed up her story with archived Facebook chats, including one memorable exchange in which Weiner suggested a sexual position that would enable them to watch
The Daily Show
, a satirical comedy show, while having intercourse, before posting: "Ridiculous bulge in my shorts right now, wanna see?"
Meagan Broussard, a 26-year-old Texan, posted "Hottttt" on Weiner's Facebook page in April and started to receive images from the Congressman's candid camera. "I was just kind of like, wow, this is all a little bit overwhelming," she told Fox News. "But that's kind of out there, daredevil." She later had phone sex with Weiner on a line that, when she called back, dialled his Washington DC office.
Ginger Lee, a porn star whose credits include
Sweet As Candy
and
Legal At Last
, provided the celebrity gossip website TMZ with a message that Weiner sent her after the scandal broke, offering PR advice and the text of a plausible denial: "I have nothing to do with the situation involving Rep Weiner. I follow his Twitter feed. And for a brief time he followed me..." In fact, the two of them indulged in heavy online petting for months.
Previous examples of sexual idiocy by politicians prove it is a bipartisan condition, and that Weiner could conceivably make a comeback, providing there are no more revelations. Republicans are happy to have him around as a punching bag. Hard-right commentator Ann Coulter claimed that "conservatives respond to their sex scandals differently because we don't elevate our leaders", ignoring how much support Republicans such as Governor Mark Sanford, Senator John Ensign, Senator Larry Craig and especially Senator David Vitter enjoyed after they were exposed.
Talk show host Rush Limbaugh, who has been married three times and was once caught boarding a plane to the Dominican Republic with a group of male friends and a bottle of Viagra, opined that Weiner is "the face of Democrat family values - he is the epitome of the Democrat culture of corruption, the Democrat culture of erection".
Limbaugh continued: "He is wrong on policy. He is an admitted liar. He used his office in Congress to conduct his lurid e-perversions. The guy's got it all, and I wholeheartedly endorse the fact that he's not going to resign."
On Wednesday, it was revealed that Weiner's wife Huma Abedin is pregnant with their first child. In a poll released on Friday, 56% of registered voters in Weiner's New York constituency said he should stay on. Things could definitely be worse for the embattled Congressman. His mayoral ambitions are in tatters and his cable news career is on hold, but at least he's unlikely to go to jail for his sins, something which cannot be said for another progressive poster boy, former Senator John Edwards.
The Justice Department has charged Edwards on six counts: four of illegal campaign contributions and one each of conspiracy and making false statements. The allegations relate to an affair he had with Rielle Hunter during the 2008 presidential campaign. According to the indictment, political contributors knowingly footed Hunter's medical bills and paid for her accommodation, once it was clear that she was pregnant with his child.
Edwards gave a few press conferences of his own as the scandal played out, including one in which he admitted the affair but denied paternity. "Being 99% honest is no longer enough," he said. A jury will decide whether he broke the law, in his desperate need to deceive.
Weiner's press conference, with its odd mixture of candour, contrition and defiance, ranks among the great mea culpas of the modern era.
For sheer brass neck, there was nothing to match President Bill Clinton's "I did not have sexual relations with that woman, Miss Lewinsky", or his infamous follow up: "I never told anybody to lie, not a single time - never."
For an opening line, it's hard to beat Senator Larry Craig's "I am not gay", after he pleaded guilty to soliciting sex in an airport toilet. There were fewer tears than Governor Mark Sanford shed, when he confessed to spending five days "crying in Argentina" with a "soul mate" who was not his wife. For surreal comedy, it couldn't touch Congressman Eric Massa's description of a "tickle fight" with a male aide on Fox News - "not only did I grope him, I tickled him until he couldn't breathe and four guys jumped on top of me" - but as Weiner nervously sipped his water and fielded questions about sex addiction and the possibility his pictures were sent to underage girls, it was compelling stuff.
Clinton recovered from the Lewinsky scandal to become an elder statesmen of the Democratic party. Despite calls for impeachment, Sanford stuck it out for the remaining two years of his term as Governor. Craig also managed to hang on, despite a string of men coming forward to say they had sex with him. Senator John Ensign, of Nevada, lasted almost two more years, after it was revealed he had an affair with the wife of a member of staff and paid him to keep it quiet, resigning only when the Senate Ethics Committee found he had broken federal laws. Senator David Vitter was re-elected by Louisiana's voters, with an increased majority, despite his dalliances with prostitutes.