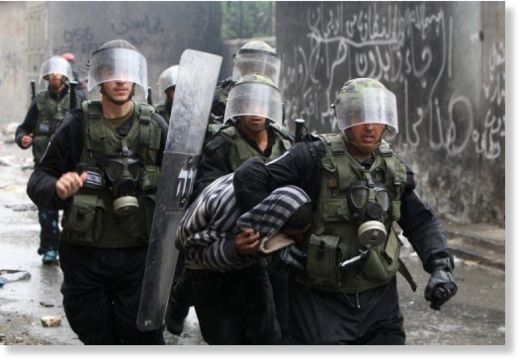 Hundreds of Israeli police are taking part in a training exercise in preparation for potentially large-scale Palestinian protests in September, a police spokesman said on Tuesday.
"There's an exercise that the police are carrying out... in order to deal with public order, maintaining public order, and dealing with widespread disturbances," spokesman Mickey Rosenfeld told AFP.
"Several hundred police officers are taking part in that, and it is leading up to the forthcoming months ... meaning September."
The Palestinian leadership plans to seek UN recognition and membership in September in a move Israeli security officials fear could be accompanied by widespread Palestinian protests.
Recent demonstrations along Israel's northern borders have raised fears that protesters could storm Israeli checkpoints or settlements in the West Bank.
"It's a regular standard exercise on a large scale," Rosenfeld said.
"But obviously we're taking into consideration that there might be the need ... for large numbers of police officers ... to deal with large-scale demonstrations in September."
Israeli newspaper
Haaretz
reported that hundreds of police, border guards and special forces were taking part in the three-day exercise.
The exercise reportedly envisages various scenarios, including the possibility of thousands of Palestinians marching towards Israeli roads and checkpoints.
The Israeli army would be the first responders in such an instance, but if the protesters crossed into Israel, the police would then handle the response.