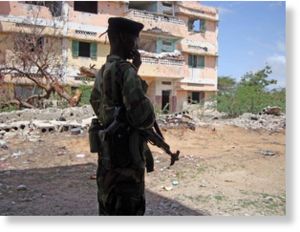 US investigators have identified one of the suicide bombers responsible for a May 30 attack in the Somali capital Mogadishu as a 27-year-old man from Minnesota, who left for the war-torn east African nation in 2009.
Based on fingerprints obtained by the FBI after the attack, the bomber was positively identified as Farah Mohamed Beledi, from Minneapolis, investigators said Thursday.
Two soldiers with the African Union force in Somalia were killed in the suicide attack, which AU and Somali forces said at the time claimed the lives of at least three attackers.
Shebab extremists, who pledged allegiance to the Al-Qaeda network last year, claimed responsibility for the attack and claimed their forces killed eight AU troops without revealing their own casualties.
Beledi had been one of 13 men who have been indicted by a federal grand jury in Minneapolis "on terrorism offenses for traveling to Somalia" and joining the designated terrorist organization the Shebab, the FBI said in a statement.
He was believed to have left for Somali in October 2009 to join the Islamist group, which has vowed to topple the transitional government and chase out African Union troops supporting it.
Beledia had a long criminal record in Minnesota before leaving the US for Somalia, the
Minneapolis-St. Paul Star Tribune
said Thursday.
FBI investigators said they were still working to identify the other suicide bomber in the attack and assess whether there was any connection there might be to the United States.
Shebab leaders and foreign Al-Qaeda fighters in Somalia last month declared vengeance "in the near future" for the killing of Osama bin Laden by US special forces in Pakistan last month.