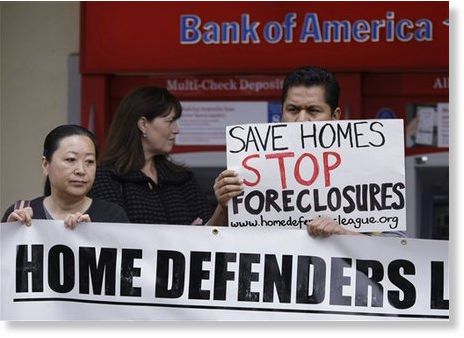 Falling real estate prices are eating away at home equity. The percentage of their homes that Americans own is near its lowest point since World War II, the Federal Reserve said Thursday. The average homeowner now has 38 percent equity, down from 61 percent a decade ago.
The latest bleak snapshot of the housing market came as mortgage rates hit a new a low for the year, falling below 4.5 percent for a 30-year fixed loan. But even alluring rates have failed to deliver any lift to the depressed housing industry.
The Fed report is based on data from the first quarter of this year. Another report last week found that home prices in big cities have fallen to 2002 levels.
Normally, home equity rises as you pay off the mortgage. But home values have fallen dramatically since the bubble in prices burst in 2006. So many homeowners are losing equity even though the outstanding balance on the loan is getting smaller.
Nicole Rosen's home in tiny Spanaway, Wash., just outside the military base where her husband works, has lost $150,000 in value since she paid $275,000 for it in 2006. She has battled mortgage lenders in court for two years to stay out of foreclosure. In the meantime, the couple are paying off credit cards, figuring it's the only "positive thing we could do."
"We're paying off all our debt. We only have $200 left on our credit cards. But we're stuck in our house," Rosen said.
Home equity is important for the economy because it has a lot to do with how wealthy people feel. If they feel swamped by a mortgage loan, they're less likely to spend freely on other things. Home equity also serves as collateral for some loans.
There are 74.5 million homeowners in the United States. An estimated 60 percent have a mortgage. The rest have either paid off the loan or bought with cash.
Of the people who have mortgages, 23 percent are "under water," meaning they owe more on the mortgage than their home is worth, according to the private real estate research firm CoreLogic. An additional 5 percent are nearing that point.
The outlook for the housing market remains dim.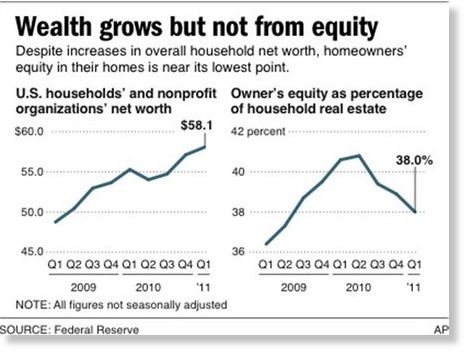 Fixed mortgage rates average 4.49 percent, extremely low by historical standards, and have fallen for eight straight weeks. But most people can't meet tougher lending requirements. Falling rates make it easier to refinance, too, but many of the people who can afford to do that already have.
And foreclosures keep hammering the housing market. On Thursday, the Obama administration said the three largest U.S. lenders - Wells Fargo, Bank of America and JPMorgan Chase - haven't helped enough people lower their mortgage payments to stay in their homes.
The government said it has started withholding the cash incentives it established for lenders under its 2-year-old foreclosure prevention program. The administration had hoped the program would prevent as many as 4 million foreclosures, but it has helped fewer than 700,000 people.
Foreclosures have economic ripples: Homes in foreclosure sell at a 20 percent discount on average, and those discounts erode prices throughout a neighborhood.
Many foreclosure sales have been delayed while federal regulators, state attorneys general and banks review how those foreclosures were carried out over the past two years. When those foreclosures go through, prices may fall even further.
Home prices are expected to keep falling until the number of foreclosures for sale is reduced, companies start hiring in greater force, banks ease lending rules and more people think it makes financial sense again to buy a house. In some areas of the country, that could take years.
The Federal Reserve report found that Americans' overall net worth grew 1.65 percent in the January-to-March period, to $58.06 trillion, mostly because of stock market gains. Most of those gains have been erased since March, though.
Net worth is the value of assets such as homes and stocks, minus debts like mortgages and credit cards.
The report found household debt declined at an annual rate of 2 percent from the previous quarter, mostly because of a decline in mortgage debt, which has fallen for 12 straight quarters.
But the decline is deceiving. Mortgage debt is coming down because so many Americans are defaulting on payments and losing their homes to foreclosure, not just because people are paying off loans.
"A lot of this debt reduction is not voluntary," said Dana Saporta, director of U.S. economics at Credit Suisse.
The Fed report suggests the average household owes about $119,000 on mortgages, credit cards, auto loans and other debt.
Debt now equals 119 percent of the money Americans have left over after taxes. In late 2007, when the country was binging on debt, it was 135 percent. In the healthier 1990s, it was roughly 90 percent.
Auto loans, student loans and other consumer credit rose 2.4 percent during the quarter, a second straight gain. Analysts say more people, many of them unemployed, are borrowing money to attend school.
The Fed's quarterly report documents wealth, debt and savings for corporations, governments and households. It covers most of the financial transactions that take place in the United States.
It found that corporations are still hoarding cash. Excluding banks and other financial firms, companies held $1.9 trillion in cash at the end of the quarter. That was slightly more than in the previous quarter and set another record.
The reluctance of companies to spend more of their cash helps explain why job growth has been slow since the recession ended. The unemployment rate is 9.1 percent, slightly higher than when the year began.
Household net worth in America is up nearly 19 percent from early 2009 but still about 11 percent below its peak in 2007. Normally, greater wealth would spark consumer spending. But the lost home equity is counteracting it.
Per household, it comes to about $518,000. But the gap between the super-rich and everyone else in the United States has grown over the past three decades. So while average wealth is increasing, most Americans don't feel the difference.
Source: The Associated Press