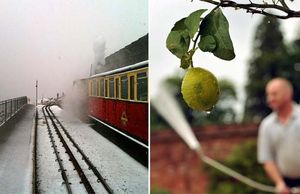 Large parts of Wales may be battling near drought conditions but at the top of the nation's tallest mountain it was snowing.
Visitors to Snowdon were baffled yesterday when they arrived at the top of the 1,085m-tall mountain to find that there was snow blowing around for an hour.
Across Wales, farmers, gardeners and anglers are facing one of their most difficult summers in the last two decades because of the lack of rain.
Despite recent rainfall, Wales has been declared to be in near-drought status while parts of England, including key arable farming areas in East Anglia, are facing water restrictions because of the drought.
At the top of Snowdon yesterday, visitor Mary Pearce, 62, of Roath, Cardiff, said: "It is bizarre - it is the middle of June, days before the start of Wimbledon and just over a week before the summer solstice."
"But there we were, standing with the snow blowing all around us."
Jonathan Tyler, manager of Snowdon Mountain Railway's visitor centre at the summit of the mountain, said: "It started hailing around lunchtime, then it snowed for about an hour. It wasn't cold, but people were arriving at the summit looking quite bemused. It was summer at the bottom of the mountain and winter at the top."
The growing crisis in England has led to consumers and farmers facing increasing water restrictions.
While northern parts of the UK experienced "plentiful" rain last month - with Scotland recording its wettest May on record - most of it did not reach central and eastern England, compounding the previous two dry months.
The Government said Cambridgeshire, Lincolnshire, parts of Bedfordshire and Northamptonshire, and Western Norfolk were suffering from drought, after England experienced the driest spring on record.
In addition parts of the South-West, South-East, Midlands and Wales are experiencing near-drought conditions, the Department for Environment, Food and Rural Affairs (Defra) said.
A spokesman for Environment Agency Wales said recent rain here had averted the threat of immediate hosepipe restrictions.
He said: "This is because most rivers have responded well to the recent rain and it has helped to maintain reservoir storage.
"There have been improvements in the South-West of Wales due to the recent rain.
"River flows in much of South East Wales (Wye, Usk and Ebbw) as well as tributaries of the Dee remain very low for the time of year.
"Water companies in Wales are not predicting a need for customer restrictions this summer. All reservoirs are within normal range."
The agency said it is monitoring the impact of low river levels on wildlife, including fish and plant life.
It said this ensures that the agency can respond quickly to problems, but it does ask that people report if they see any fish gasping for air or any signs of pollution to its incident hotline on 0800 80 70 60.
Meanwhile, Dr Cymru Welsh Water has been taking operational measures to manage supply across Wales as well as increasing leakage detection and continue to run its Be Waterwise campaign.
And Adrian Greason-Walker, of Wales Tourism Alliance, said a lack of rain is likely to encourage more people in Wales and the UK to have a summer "staycation", instead of going abroad.
"People do like to see our rolling green hills and they, together with our inland waterways, small lakes and waterfalls, could be adversely affected by a lack of rain. A concern is how a possible drought could affect our habitats and wildlife," he said.