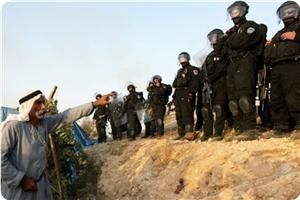 Israeli media outlets have unveiled a government plan to displace 30,000 Palestinians from their villages in the Negev, which the authorities refuse to recognise. They would be forced to move to existing Palestinian towns that would be expanded, such as Rahat, Kseifa and Hura.
The plan that will be presented to the Israeli government in coming weeks for approval would involve offering the relocated Palestinian bedouins monetary compensation and alternative land in return for giving up their ownership of hundreds of thousands of dunams of land, the Israeli newspaper Haaretz reported on Thursday, June 2.
Haaretz
added that "the cost of the relocation plan is estimated at somewhere between NIS 6 billion to NIS 8 billion shekels."
"In a briefing this week, Eyal Gabbai, the director general of the Prime Minister's Office, and Ehud Prawer, the head of policy planning in the office, told reporters that the existing situation of the bedouins cannot continue."
According to recent statistics, around 191,000 Palestinians currently live in the Negev, with 71,000 of them living in 36 villages that the Israeli authorities refuse to recognise.
.