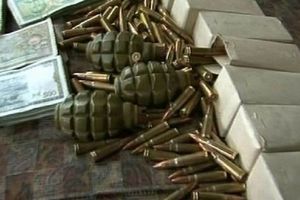 Syria says it has arrested members of a terrorist group that planned acts of sabotage to destabilize the country following weeks of unrest.
According to Syrian security officials, foreign organizations provided the group with financial as well as military assistance to incite unrest in the country.
The head of the armed terrorist group, Anas al-Kanj, has confessed to receiving instructions "to incite people to protest, particularly outside the Ommayad Mosque in the capital, Damascus, and in the towns of Daraa, Latakieh and Banias."
He also confessed that he was ordered to use live ammunition and open fire on "protesters in order to sow disarray and lead people to believe that the security forces were shooting on the demonstrators."
According to al-Kanj, there were some other "cells" carrying out similar acts in the country.
Other members of the group have also stated in their confessions that they were supplied with various types of weapons and were trained on using them.
A large amount of weapons, including pistols, hand grenades and automatic rifles, were seized from the group.
Syria has witnessed weeks of protests since mid-March as scores of people were killed after peaceful demonstrations turned violent.
Damascus has repeatedly denied allegations that its security forces were responsible for shooting at protesters, insisting that officers were given clear instructions not to harm civilians.