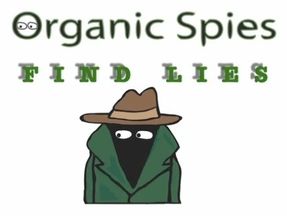 A new short film claims that the board of the
Organic Trade Association
(OTA) is undermining the ethic of of the organic movement. The film, embedded below, was released by an anonymous person or group called
Organic Spies
, suggests that at least four current board members of the OTA are in conflict of interest because the companies they represent overwhelmingly rely on genetically engineered ingredients, something that is anathema to the organic movement.
I love a shadowy figure as much as the next guy, but I also checked with former OTA director and board member
Arran Stephens
, CEO of the still independent and fiercely organic cereal company,
Nature's Path
, to get his take on this breaking scandal.
Arran Stephens writes:
My comments are based upon my own experience as a former Board Member of the OTA: I served as a director and Board Member of the OTA and helped with the long process of developing the organic standards that were adopted by the National Organic Program and eventually, the launching of the USDA organic seal. I was proud of the fact that the OTA had worked with the USDA in establishing legal guidelines for organic, so that everyone was under similar obligations: playing on a level field. Please note that prior to the USDA NOP rule, many of the so-called organic product companies were cheating or stretching the rules. Then, there were no laws to enforce compliance, and because Nature's Path did follow all the organic guidelines to the letter, we were at an economic disadvantage to competitors who were buying cheap non-organic ingredients and labeling them as "organic").

The reason I resigned my role on the Board was because there was a tight-knit group of four or five at the top which did not listen or respond to me whenever I urged the OTA to take a firm stance against GMOs--which I considered to be the greatest-ever threat to organics, but I was consistently ignored. Although a couple of other Board members quietly supported me, they didn't have the courage to take on the cabal at the top.
Stephens goes on to relay a story from a past Natural Products Expo in Anaheim. A board member of the OTA, and president of a major, iconic organic brand, had dismissed concerns over GMO foods as irrelevant at an OTA member meeting. "I whispered to my old friend and former Greenpeace activist Ken McCormick, 'I betcha he's about to sell out to some mega food company...following orders to downplay the GMO issue'" Sure enough, the big announcement of the Expo was the sale of the GMO naysayer's company to "one of America's largest food conglomerates". The naysayer was promoted to a VP role within the corporation.
Stephens prefers to not name names, but by watching the film and having a quick perusal of the names on the OTA board of directors it's not hard to tell who could be in conflict of interest. The film most firmly calls out OTA board president Julia Sabin, also vice president and general manager at J.M. Smucker Co. (Listed as Smucker Natural Food, Inc on the OTA website.) Sabin has been with Smuckers for decades and the film claims that she "individually profits from Smucker's selling GE foods."
Other board members called out as having conflicting agendas include Kelly Shea of White Wave Foods which is owned by Dean Foods, Chuck Marcy who is a former president at Bryer's, Quaker, and Kraft, and finally Craig Weakley from General Mills owned Small Planet Foods.
Stephens echos the film's message that it's up to the members of the OTA to vote in a board that is more representative of the organic ethic.
I can understand the frustration and apathy of many in the general membership of the OTA with the leadership, when these leaders have a very real conflict of interest with the organic movement. Major multinationals have entered the organic sector only as an opportunity to make more profit, not due to any great underlying desire or strategy to improve the environment by reducing toxic agriculture, nor sincerely wanting to improve people's health with their highly processed, sugar and/or fat-filled products. I guess you can't blame them for that, because every business wants to grow and prosper. But if, in the process, they collectively co-opt a vital movement and clad themselves with the illusion that their organic or 'natural' subsidiaries are small, idealistic mom-and-pop independent operations, then they should be called out.

The OTA membership (more than 6,500 mostly smaller and independent members) should vote in candidates to the OTA who are sincere and truly committed to organic, without conflict of interest, or in other words, who are not part of multinational corporations which work strenuously to discredit organic while promoting toxic agriculture, including genetically engineered foods (GMOs). I do think transparency is a good thing, because when we are better informed, we make wiser decisions.