Sott.net translation.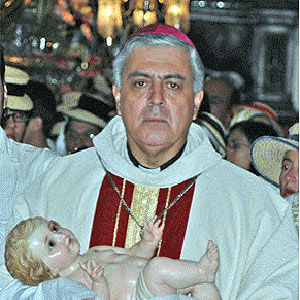 "There could be children that allow it - referring to abuse - There are 13 year old underage teenagers, who are perfectly in agreement with, and what's more wanting it, and if you are careless they will even provoke you,"
he said." These are the words that the Roman Catholic Bishop Bernando Álvarez, the man in charge of Tenerife's church, used to describe the severe problems of child abuse on Christmas Eve, in an interview given to the local Tenerife newspaper
La Opinión de Tenerife
.
Additionally, the bishop compares homosexuality with child abuse, and even if he assures that the difference between homosexuality and the abuses are evident, he poses this question:
"why does the child abuser have to be considered a sick person?"
Even if Álvares states that he respects the sexual condition of homosexuals, he shows again his most critical side and claims that "the homosexuality phenomenon is something that damages people and society in general".
The bishop's opinion is that, "nowadays it is not politically correct to say that it's a sickness, a lack, or nature's distortion of human kind. That's what every psychiatry dictionary from 10 years ago said, today it can't be mentioned".
Furthermore, he considers that due to homosexuality "in a long term we'll pay the consequences as has happened with other civilizations." Álvarez advised that "we have to promote education and inculcate values of womanhood and manhood.
To the question of orienting the homosexuality, the bishop is much more critic and states that
"we cannot let the people go wild to whatever it comes
(sic) ¿why we won't do the same with the violence and other human impulses?" Finally, he draws a comparison between the homosexuality and sexual aggression, "the person that practices it, can practice child abuse also".
The Tenerife diocese has explained that Bernardo Álvarez is not trying to justify "in any case, something so condemnable as the child abuse". Regarding the rest of the statements, the diocese refers back only to the interview.
These statements have triggered a strong polemic, especially after the related scandals of pedophilia involving catholic dioceses in the US - Boston, San Diego, Los Angeles - and Ireland - Dublin -, from which the church had to pay millions of dollars to the victims.