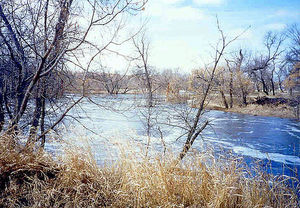 Residents flee rising Souris; Burlington braces for Des Lacs blast
An estimated 10,000 Minot residents began a hectic scramble Tuesday to move their belongings out of their homes and seek shelter elsewhere, while crews began an all-night effort to build new, secondary dikes throughout the city.
Many were told at noon Tuesday that they'd have to be out of their residences by dark. Others were given a deadline of today. Minot Mayor Curt Zimbelman made the announcement at City Hall.
"We have to take extreme measures. The water is on the ground now. We know what to expect. It's not a good situation," said Zimbelman.
Residents of all nine evacuations zones in Minot were told they would have to get out of harm's way as soon as possible. In the meantime the city officials, U. S. Army Corps of Engineers and the North Dakota National Guard continued to devise a plan on how to best defend Minot against what is
on track to become the greatest flood in this city's history
.
The Souris River has been testing the city's defenses all spring. Now, fueled by up to four inches of rain from Minot to Kenmare and beyond, the Des Lacs River is rolling and about to play a major role in the fate of many valley residents. The Des Lacs, which joins the Souris River at Burlington, was on pace Tuesday to seriously challenge its all-time top flow.
Burlington Mayor Jerome Gruenberg said he made a trip up the Des Lacs River valley Tuesday. In a very somber tone, Gruenberg told those attending an early Tuesday evening press conference at Minot's City Hall that "a six- to eight-foot surge of water" was on its way to Burlington. Gruenberg said he was advising everyone in the river valley from Donnybrook to Terracita Vallejo on Minot's west edge to get out of their homes as soon as possible.
Indeed, by Tuesday afternoon the Des Lacs had risen more than seven feet at the Foxholm gauge in less than 24 hours and was showing no sign of letting up. According to the National Weather Service, the cranky river could reach 21.3 feet at Foxholm with a flow of 4,000 cubic feet per second or more. The all-time record flow at that location is 21.23 feet.
Releases into the Souris from Lake Darling were cut Tuesday in an effort to lower the level of the Souris to make some room for the Des Lacs' deluge. Nevertheless, Minoters have been told to prepare for a flow of 10,000 cfs. Recent emergency dike work by the Corps was built to contain a maximum flow of 9,000 cfs.
It was announced late Tuesday that the Corps would immediately begin constructing a series of secondary dikes to protect "vital infrastructure and some neighborhoods." Zimbelman said "hard decisions" had to be made as to the location of secondary dikes. According to Minot Public Works Director Alan Walter, the second dikes would be constructed to "1,858 feet or beyond." The location of the secondary dikes was to have been made available on Minot's Web site at (www.MinotND.org).
Col. Michael Price, Army Corps' St. Paul District Commander who has jurisdiction over the Souris River, said at Tuesday's press conference "there will be flooding in the city of Minot."
Maj. Gen. David Sprynczynatyk, adjutant general of the North Dakota National Guard, said 400 guardsmen were on duty in Minot and that another 200, called up from nearby states, were on their way to Minot. On of the duties of the additional guardsmen, said Sprynczynatyk, would be to help with traffic control if requested to do so.
More Water Coming
Cutting back the amount of water being released from Lake Darling is very much a double-edged sword. While the move reduces a few hundred cfs from the peak flow expected in Minot Thursday, Lake Darling was rising to overflow level. The last reservoir on the Souris above Minot stood at 1,601.23 feet late Tuesday. According to the Corps of Engineers, the absolute limit for Lake Darling is 1,601.5 feet. Increased releases will be needed to prevent Lake Darling from spilling uncontrolled into the Souris.
Perhaps even more menacing was a warning received from the Saskatchewan Watershed Authority Tuesday that "in response to recent rainfall and increased runoff into Boundary and Rafferty reservoirs in southeast Saskatchewan, the Saskatchewan Watershed Authority will be increasing outflows from Rafferty reservoir, with possible further increases from both reservoirs. Residents in the (Estevan area) river valley are advised to take necessary actions to protect themselves and their property."
The release from Boundary Reservoir will be increased over the next few days to match inflow, resulting in a total flow through Estevan of approximately 7,060 cfs. Both Boundary and Rafferty reservoirs are predicted to rise again to their maximum levels. Thus, the reservoirs have no capacity to store further inflows. With no storage room available, increased inflows will mean outflows will also have to be increased."
Alan Schlag, NWS hydrologist in Bismarck, noted the lack of storage in the Souris reservoirs and the presence of unfavorable weather systems.
"I still don't see an end to this wet cycle," said Schlag. "That's what scares me the most. Minot is cutting it razor thin."
Evacuation Begins
The focus for Minot residents was on the short-term requirements Tuesday. Hundreds of trucks and trailers of all sizes and makes jammed their way into streets in the evacuation zones Tuesday. Many neighborhoods had vehicles and trailers backed onto front lawns so that the distance to carry belongings from a home would be minimized.
Minot and area residents responded for requests to help their friends and neighbors, many did so without anyone asking.
"It's not my place. I'm here with my cousin visiting from Castle Rock, Colo.," said Carl Kopp, who was helping a family member evacuate furniture and belongings from a home in Minot's Green Valley Addition near the North Dakota State Fairgrounds. "If we can help out, it's great."
Next door, Wallace and Evelyn Johnson said they would comply with the evacuation order - all the way to Texas.
"We were really disappointed to hear the news, but we were packed to go to Texas before we knew this so we are still going," said Evelyn Johnson. "We don't have anyplace to put anything anyway. We moved out in the '69 flood and didn't get water on the main floor, but the people on both sides did. We're hoping this won't be that bad."
Wallace Johnson remembered the flood of 1969 quite well, even to where the water level stopped at his home.
"I feel for people. This is something you don't know until you experience it," said Wallace Johnson. "It really didn't surprise me too much. From the very beginning I kind of had doubts. Of course, when it started to rain I figured, that's it."
Randy Hanson, who lives on First Street Northeast near Hammond Park, was loading furniture and possessions into a large trailer Tuesday shortly after the evacuation order was given.
"It's not good. I'm not ready for this," said Hanson while watching several friends carry a couch out of his basement. "I'm looking at five feet on my main floor. I just redid the place. We've been thinking, thinking, hoping, praying. Didn't work. Time to go."
Later Tuesday, Hanson learned that the decision was made that a secondary dike would be constructed between his home and the river. Many others would not be so fortunate.