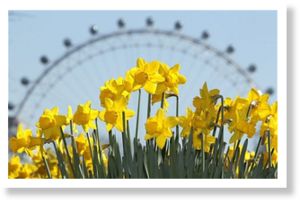 It might come as a surprise to those who tried to hold a barbecue in the rain yesterday, but this spring has been
the warmest since records began more than 350 years ago.
The average temperature since March for central England - the triangular area between London, Manchester and Bristol - was 50.58F (10.32C).
Weather statistics dating back to 1659 show the previous warmest spring was in 1893, the year that Sir Arthur Conan Doyle announced the death of Sherlock Holmes. The temperature then averaged 50.36F (10.2C).
Spring this year has also been the hottest and driest for Britain, although those records stretch back only as far as 1910. Last April was the sunniest in England since 1929.
Poor weather dampened the last few days of the season for many over the Bank Holiday weekend, with thunderstorms in Scotland and Northern Ireland and hailstones falling as far south as Surrey.
But the showers will have come as welcome relief for farmers, particularly those in East Anglia and the South East, where only .67in (17mm) of rain fell in some places all spring.
Farmers in Lingwood, Norfolk, have harvested hay three months early.
The drought conditions have stunted crop growth, bearing out predictions for a poor harvest this year, which will put inflationary pressure on food prices.
Gardeners' carefully maintained lawns as well as public parks are threatened as hosepipe bans become ever more likely.
The forecast for later in the week reverts to the previous pattern of joy for sunbathers but gloom for farmers.
By Thursday, the Met Office predicts temperatures of 75F (24C) on the south coast, 72F (22C) in Wales and 68F (20C) in northern England and Scotland.
According to the Environment Agency, which began its drought plan earlier this month, south-west, central and eastern England as well as southern Wales have received below-average rainfall since October 2010.
One result was bushfires in Lancashire, the Highlands and parts of Northern Ireland, in conditions more commonly associated with California and Australia.
Since March 1, the average monthly rainfall for England and Wales is just over 2in (61mm) - the lowest for a century in some places.
Many reservoirs are low for this stage of the year and rivers have dropped dramatically. By last week, the Lathkill in Derbyshire and the Teme in Herefordshire were just a series of pools from which fish had to be rescued.
Some experts have predicted a drought worse than in 1976, the hottest summer on record.
Then, water was rationed, public standpipes were common and a Minister for Drought was appointed.
The forecast for this summer does not provide solace: June and July are predicted to be particularly warm, with heavy rain only likely in August.
Charles Powell, a Met Office forecaster, said: "Heading to Thursday and Friday it looks a bit brighter and sunnier with temperatures of about 20 for the Midlands and up to the mid-20s in the south and south-east by the weekend.
"So it should be a sunnier and warmer start to June and summer."
- The previous warmest spring in 1893 was a period of change and great advances.
William Gladstone was prime minister and Queen Victoria had celebrated her Golden Jubilee six years earlier.
The first British Ladies Amateur Golf Championship took place at Royal Lytham and St Annes Golf Club.
The German inventor Rudolf Diesel patented his engine as petrol cars were driven on public roads in Massachusetts and the first number plates were used in Paris.
Gandhi, a 24-year-old pacifist, committed his first act of civil disobedience in India.
Ivor Novello, the musician, and Wilfred Owen, the war poet, were born. Thomas Edison built the first film studio in New Jersey before the industry moved to Hollywood.