"This morning I pointed my solar telescope through a gap in the clouds to look at the new 'hot-spot' on the sun - AR11226," reports Pete Lawrence of Selsey, UK. "Wow! I'm glad I did. The bright flaring regions within the sunspot group are incredible." Caught in mid-eruption, the active region nearly saturated his camera: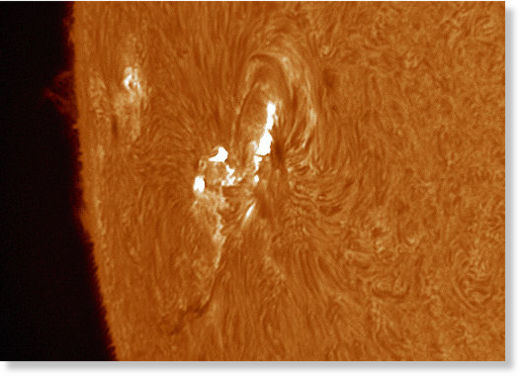 "A white light image of the region shows the underlying sunspot complex," says Lawrence. "Impressive!"
Sunspot 1226 and another unnumbered sunspot trailing behind it are responsible for this weekend's sudden surge of solar activity. The sunspots are crackling with C- and M-class solar flares. So far, none of the blasts has been geo-effective, but this could change in the days ahead as the active region turns toward Earth.
Sunspot Telescope:
Readers, please note a new addition to the Space Weather Store. Explore Scientific's
White Light Solar Observing System
is the perfect tool for monitoring sunspots like AR11126. And it doubles as a regular telescope at night---double the fun!
More images:
from
Robert Arnold
of Isle of Skye, Scotland; from
Karzaman Ahmad
of Langkawi National Observatory, Malaysia; from
John Chumack
of Dayton, Ohio; from
Cai-Uso Wohler
of Bispingen, Germany; from
David Evans
of Coleshill, North Warwickshire, England, UK; from
Iakovos Marios Strikis
of Athens - Greece; from
Peter Desypris
of Athens,Creece