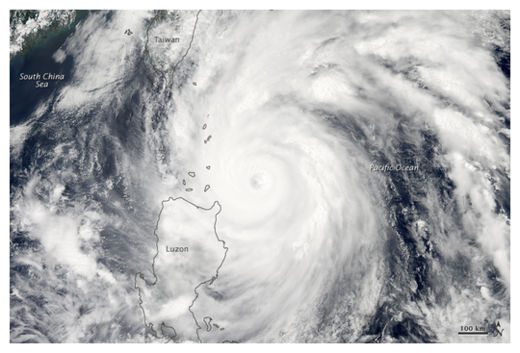 Super Typhoon Songda swirled off the coast of Luzon, at the northern end of the Philippine Islands, on the afternoon of May 27, 2011. Peak winds were around 240 kilometers (150 miles) per hour at 06:00 Universal Time (2 p.m. local time), according to the
Joint Typhoon Warning Center (JTWC).
This photo-like image shows Songda roughly an hour prior to the JTWC wind speed measurement. The data were collected by the Moderate Resolution Imaging Spectroradiometer (
MODIS
) on NASA's
Aqua
satellite at 1:10 p.m. local time (5:10 UTC) on May 27. The distinct, but cloud-filled eye of the super typhoon was well offshore from the major islands of Luzon and Taiwan, though spiral arms of the storm extended for hundreds of kilometers from the center, bringing severe weather to both places.
The storm's track was predicted to keep it offshore from Taiwan, curving eastward as it travels north. While the storm is quite intense, the fact it has stayed far offshore has kept casualties and damage light. One death in the Philippines had been ascribed to the storm, according to the Philippines disaster council. There has been some crop damage, but since the storm buffeted the islands past the date of harvest, agricultural yields have not been affected.
There is some concern along coastal areas of Japan, though Super Typhoon Songda should lose much of its power by May 29, with winds likely down to tropical storm strength, according to predictions.
References