Cressona, Pennsylvania - For the second time this week, a tornado touched down in Schuylkill County.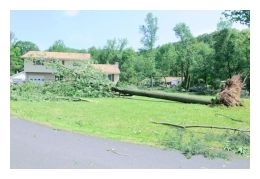 Just three days after the "Lewistown Valley Tornado," a 95-mph EF-1, zoomed through Walker Township on Monday, the "Schuylkill Haven Tornado," a 110-mph EF-1, uprooted trees, knocked down power lines and damaged more than 20 homes along an 18-mile strip from Cressona to West Penn Township, according to the National Weather Service.
"Damage was pretty extensive. Four of those homes had major damage. There were a dozen barns and outbuildings that were also damaged," Greg DeVoir, a meteorologist with the NWS, State College, said Friday evening.
The tornado touched down in North Manheim Township, a half-mile west of Cressona, at 8:15 p.m. Thursday. It bobbed up and touched down numerous times as it continued east, DeVoir said. The tornado was 200 yards wide at its greatest width and its path ended at Leibeyville in West Penn Township at 8:35 p.m.
On Friday, hundreds of Schuylkill County residents - armed with chain saws to cut fallen timber and digital cameras to photograph damage - worked to clean up their properties.
Bev Shoener, who lives at 1001 Woodland Drive with her husband, Charles, said although she was unsure of the exact amount of damage her property sustained, trees hit her home and were scattered on her yard. In the back of her property, a tree fell over and its roots lifted a shed off the ground.
Shoener had pictures taken of the damage to show to an insurance company. With a breath of frustration, she said, "We lived in Schuylkill Haven for 40 years and didn't have any trouble. We moved here for 10 years and we had a flood, a week without electricity, and then we had this."
While no injuries were reported, the storm left a few people temporarily homeless, including the residents of the apartments at the former Seven Stars Hotel, which is a mile north of the Cressona Mall. The storm ripped off the hotel's roof, said John Matz, emergency management coordinator for the Schuylkill County Emergency Management Agency, Pottsville.
Thursday's storm left about 9,000 PPL customers in the county without power. By 7:30 p.m. Friday, PPL restored power to about 4,000 of those properties, Matz said, and he expected power to be returned to all of those customers by noon today.
"There are PPL crews and crews from other companies working throughout the area. During our tour with the National Weather Service, we noted several areas of extreme damage to the electrical infrastructure. In some cases, poles, transformers and wiring will have to be replaced. Cressona Borough, West Brunswick and East Brunswick (townships) have the highest number of outages," Matz said.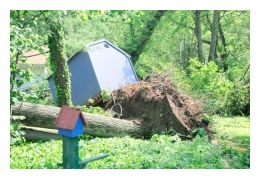 Tornado No. 2
Tornadoes are rare in Schuylkill County. According to the website for the National Environmental Satellite, Data and Information Service, there were 11 tornadoes in the county between May 1953 and May 1996.
There have been a few cases in which two tornadoes touched down in the county in the same year - in July and November 1975 and in June and November 1979 - but never two in one week.
Bruce W. Budd, meteorologist-in-charge of the Central PA Weather Forecast Office of the NWS, explained why this season is unique.
"There are certain weather pattens that are more conducive to tornadoes than others. We're in one of those, basically. Characteristics include the jet stream that's over us. There's a lot of moisture. Of course, we've had a wet spring. You have enough heat, and we've had some cold air lingering from the spring. So you have the warmth on the ground and the cold aloft which creates this instability. You have these kind of conditions every year in various areas, but not persistent like it's been in the east here the last several months," he said.
Budd made the determination Friday that the violent force of nature that caused so much damage Thursday night was a tornado.
First, he was given a ride in a state police helicopter to survey the damage.
"From the air, it's much more evident, with damage kind of confined to a path about 150 yards wide," Budd said.
Accompanied by county emergency management officials, including Matz, Budd visited the neighborhoods affected.
With a compass in hand, he measured the direction the oaks, maples and hickories fell in places like Woodland Drive in North Manheim Township.
"Wow! What a scene. I can't get over it. I'm almost sure that it had to be some sort of tornado," Patrick M. "Porcupine Pat" McKinney, the environmental education coordinator for the Schuylkill Conservation District, said at 5 p.m. after driving by there Friday.
"It didn't level everything like the one in Joplin, Mo. But there are tornadic signatures through much of the path," Budd said as he stepped around fallen timbers and over power wires.
Budd examined the 50-foot-high, 4,000-pound tree that fell on a garage at 1010 Woodland Drive owned by Clair "Sugar" Moser and his wife, Madelene Martician-Moser.
The couple said the tree fell at 7:45 p.m. Thursday.
"It sounded like two freight trains smashing head-on," Clair Moser said.
The couple have lived there 33 years and said the tree had been there as long as they have.
"It had to be a tornado," Madelene Martician-Moser said.
Budd noticed the tree fell "west to east." Another near it fell "almost north to south," he said.
"It's a convergent motion, swirling wind, things coming upon one another. When you have a twister, where it tends to draw things into the middle, that's classic. They don't always behave that way, of course. I can safely say, it's a tornado," Budd said.
Homeless at Seven Stars
Rich and Donna Smith, who lived in an apartment in the former hotel at 155 Seven Stars Road, were still on scene at noon Friday.
Rich Smith said the Red Cross was there to help, and had put them up in the Days Inn on Route 61 until Tuesday, but the Smiths are still trying to find a place to live. They lived in their apartment for a year and before that, they said they were homeless for two years.
"All of our furniture and clothes are soaked," Donna Smith said. "What we've got on is what we've got."
Smith said that he and his wife were on the waiting list for Section 8 housing, but didn't qualify since they made more than the maximum monthly salary. They called state Rep. Mike Tobash, R-125, and were then told they would be receiving Section 8.
Smith said that although they have a place to live until Tuesday and now have the vouchers for Section 8 housing, they still need to find a place to live that will allow them to keep their two Shih Tzu dogs.
At the Cressona Mall, most of the businesses were closed Friday, but Giant Food Stores remained open.
Hail in Tamaqua
While southern Schuylkill took the biggest hit, Matz said a nasty hail storm pelted the Tamaqua area, denting the hoods and cracking the windows on hundreds of vehicles.
Even state Sen. David Argall, R-29, said his car sustained damage.
"I have the dents in my hood to prove it," Argall said.
Nick Paraschak, who lives at Second and Phillips streets in Coaldale, said the lightning started about 6 p.m. Thursday as the storm moved in.
"The hail started out as pea-sized and ended as big as baseballs," he said.
Paraschak was watching the storm when he heard a big bang outside - the windshield and rear window on his neighbor's car had shattered.
Hail also damaged more than 150 new vehicles at All-American Jeep in Tamaqua, said owner Lynn Sanzi.
Sanzi isn't repairing the vehicles, which sustained damage on their hoods, fenders, truck beds and windshields, but plans to hold a scratch-and-dent sale, discounting the vehicles while still giving customers the rebates.
"It will be our loss but it will be the customers' gain," she said.
So many vehicles and homes were damaged in Tamaqua that police Chief Dave Mattson said the department is not even taking reports, but referring residents to their insurance companies.
Farther east in Coaldale and Lansford, the damage was even worse.
"In 70 years, I've never seen anything that compares to this," said John Harkins, 213 Second St., Coaldale. "It lasted a long time."
Hail shattered two storm windows on Harkins' home as well as a car sunroof. Dents cover both of Harkins' vehicles, too.
"The yards were covered with hail as big as snowballs," Roz Harkins said, "Like someone was making snowballs, big snowballs."
Nearby, Lisa and Paul Coppie of 200 East St. waited for the insurance adjuster for their 2004 Kia, which lost its rear window.
"It was very nasty," Paul Coppie said. "I'm living here 20 years and I've never seen hail this big."
The hail sounded like machine gun fire hitting the awning on Michael Serina's home at 344 W. Bertsch St. He was sitting on the porch when the storm struck, and he watched as the hail bounced off the cars like rubber balls.
Across the street, hail crashed through the awning on Joe Kupec's front porch.
"This is here 30 years and it went through a lot of storms," he said. "It looks like a bomb went off."
Argall said the violent storm occurred while he and Micah Gursky, president of Tamaqua's borough council, were touring an older building in downtown Tamaqua - the old Miners Bank on West Broad Street.
"They have it on the list for the revitalization program, and we looked out the window and actually got beamed in the head with a couple (of hail pellets). We learned one thing, though. That building has a solid roof," Argall said.
Report damage
Argall and U.S. Rep. Tim Holden, D-17, said Friday that they were not certain if federal or state funding would be available for people whose property sustained storm damage.
"It would be handled through the state emergency management agency, PEMA. We're still checking. I haven't gotten a straight answer to that. I guess it takes them a little bit of time to figure out exactly what kind of storm caused the damages, then they have to count up the number of damages reported," Argall said.
"It's based on a formula, if there's going to be any federal help. It's also determined by uninsured losses. We'll have to wait and see," Holden said.
Holden suggested people report their damage to Schuylkill County Emergency Management, Pottsville.
"The county will get all of their assessments done and turn it over to PEMA and then PEMA will make a determination if they feel it meets the criteria, if they want to request emergency assistant or not," Holden said.
Holden suggested people report their damage by calling the Schuylkill Emergency Management Agency, 435 N. Centre St., Pottsville at 622-3739.
Looking ahead, there's a 50 percent chance of precipitation this morning, and it will be mostly cloudy with a high near 78, according to the NWS website at weather.gov. On Sunday, there will be only a 20 percent chance of showers and thunderstorms and will be partly sunny with a high temperature of 83. On Memorial Day Monday, it will be mostly sunny with a high of 89.