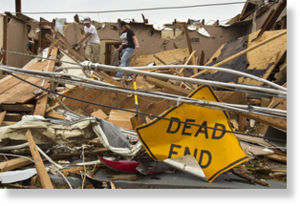 The death toll from Sunday's tornado has risen to 122, making it the eighth-deadliest tornado in U.S. history, the National Weather Service said.
The Joplin twister was upgraded to EF-5, the strongest category on the Enhanced Fujita Scale, with winds exceeding 200 mph. The storm was apparently a "multivortex" tornado, with two or more small and intense centers of rotation orbiting the larger funnel, a rare occurrence.
It's the country's deadliest storm since 1950.
The number of those still missing isn't known because many have left Joplin to stay with relatives and friends. Rescue workers on Tuesday were able to save two more people from the wreckage, bringing the total to nine, even as they braced for more storms Tuesday night.
Those storms brought their own misery: Several tornadoes struck Oklahoma City and its suburbs during rush hour, killing at least five people and injuring at least 60 others, including three children who were in critical condition, authorities said.
Cherokee Ballard, a spokeswoman for the state medical examiner, said four people died west of Oklahoma City in Canadian County, where a weather-monitoring site in El Reno recorded 151 mph winds.
At Chickasha, 25 miles southwest of Oklahoma City, a 26-year-old woman died when a tornado hit a mobile home park where residents had been asked to evacuate their trailers, Assistant Police Chief Elip Moore said. He said a dozen people were injured and that hundreds were displaced when the storm splintered their homes.
In Kansas, two people were killed when a tree was blown into their van near St. John northwest of Wichita.
In Texas, funnel clouds were reported near Dallas and Fort Worth. Officials at Love Field and Dallas-Fort Worth International moved airline passengers to airport basements and interior rooms.
Most of Missouri and Kansas was under severe storm watches and warnings most of Tuesday. The Kansas City area was buffeted by 1-inch hail and 60 mph wind Tuesday night, and Joplin was under another tornado warning.
Authorities in Joplin plan to continue their searches today, even as hope starts to dim for those seeking their loved ones.
About 750 people have been treated at regional hospitals. Among the injured is Jeff Taylor, a Riverside police officer hurt during a lightning strike on Monday. Taylor, who was in Joplin to help with searches, was in critical condition at a Springfield hospital.
Two days after the storm, more information emerged about those who had been lost.
Eleven of the victims came from the Greenbriar nursing home, which was flattened. Ten were residents, one was a staff member. Two other workers were in critical condition on Tuesday.
"The problem we had was the fact that the building took an absolute direct hit. It destroyed the building," said Bill Mitchell, senior vice president for the company that operates Greenbriar. Only one wall was left standing.
At least seven bodies have been found at the Home Depot. Rescuers were trying to break through the concrete so search dogs could smell for people. A store employee killed in the storm reportedly died trying to help save others in the store.
"His co-workers view him as a hero," said Craig Fishel, a Home Depot spokesman. "He was very well loved by everyone who worked with him." The company donated $1 million to the rebuilding of Joplin.
Three bodies were found at the Elks Lodge, which had been preparing for bingo night when the tornado struck.
"If that had been two hours later, there could have been 40 or 50 people in there," said Chris Moreno, a hospital lab technician coordinating an outdoor triage center.
Friends of Will Norton, a teenager who disappeared driving home from his high-school graduation, have used Facebook and Twitter to bring attention to his case. His Hummer H3 rolled several times, and Norton was apparently thrown from the vehicle. His father was hospitalized, but the younger Norton hasn't been seen since.
The U.S. House Appropriations Committee on Tuesday approved $1 billion in emergency disaster assistance to help the tornado-devastated region around Joplin in case relief coffers run out before the end of the fiscal year in September.
The relief package still must be passed by the full House and then the Senate.
The Storm Prediction Center had warned since the weekend that strong, long-lived tornadoes could hit Oklahoma and adjacent parts of Kansas and Texas. The storm Tuesday that killed four west of Oklahoma City later moved to the capital's northern suburbs and on toward Stillwater - covering a distance of about 80 miles.
"We knew for the last two days that we had an opportunity for long-tracking tornadoes, and unfortunately that came true today," said Michelann Ooten, a spokeswoman for the Oklahoma Department of Emergency Management.
The line of storms began about 3 p.m. in Oklahoma and followed tracks greater than 40 miles into the state's capital city before continuing on toward Tulsa. Oklahoma state offices and many businesses let workers leave hours earlier to get out of harm's way.
Storm clouds also spawned funnel clouds and at least one tornado around north Texas.
Dallas Love Field spokesman Jose Torres said everyone in and around the airport terminal was moved to a basement beneath the terminal as storms moved through.
Fans were evacuated from the Rangers Ballpark concourse as a precaution during a rain delay in Tuesday night's baseball game between the Chicago White Sox and Texas Rangers.
Help From KC
As local law enforcement and emergency responders descended on Joplin to help rescue survivors, another team of Kansas Citians was dispatched to help with the reality of recovery efforts.
Four members of the Jackson County medical examiner's office, including chief medical examiner Mary Dudley, reported to Joplin on Tuesday morning as members of the Region VII Disaster Mortuary Operational Response Team. The team will be in Joplin for two weeks to work with local authorities to recover, identify and process deceased victims.
The Star's Brian Burnes, David Goldstein and The Associated Press contributed to this report.