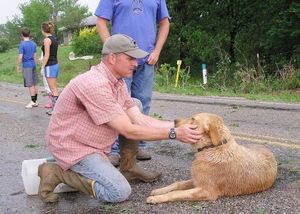 Cheryl Mayo and 14 other people huddled in a shelter as a monstrous tornado churned overhead late Tuesday afternoon.
The tornado blew open the door of the storm shelter, Mayo said about 30 minutes after the storm passed by. "As soon as it blew the lid open you could see that the house was gone."
The home was destroyed, along with a double-wide trailer on the same property on State Highway 74B east of Cole, a small town about 15 miles southwest of Norman.
Utility poles were snapped in pieces, one car was on its top, and the road was blocked by downed power lines.
Zach Johnson, 17, who lived with his parents, Steve and Kelly Johnson, in the two-story, five-bedroom home that was less than a year old, said it felt "like something hit your head. It felt like a meteorite or something hit the Earth."
Johnson said he wondered why the door was ripped off the shelter, which was buried in the floor of the garage.
"I don't think my dad shut the door all the way," he said.
"He had it shut," Mayo said. "It just blew off. The pressure, God, you could feel the pressure down in there."
Shelter was lifesaver
Several parents had picked up their children who attend a day care in the home, Mayo said. Mayo, Kelly Johnson's best friend since college, said she had gone by the house to help Johnson handle any children who remained.
Four children of day care workers were in the shelter. One adult suffered a minor cut on her neck, but no one else was hurt.
"That storm shelter was the best investment," Zach Johnson said.
Johnson at first said the family's two Labradors were killed. "No," Mayo said to Johnson's great relief, "Baxter's down there," pointing down the road.
Baxter was found in a creek bed. He appeared to be in shock but with no apparent injuries. The other dog had not been found.
Stunned neighbors gathered along the road.
"All of a sudden we just heard this strong wind," said Martha Fraire, who lives across the road in a mobile home with her husband, Paulino.
"We were just praying," she said. The Fraires' trailer, along with others nearby, appeared undamaged.
Kevin Longacre, 50, said he was in a home across the street with his mother.
"I saw it coming, and I told Mama to get in the middle of the house," he said. "I just started hearing that big, loud noise. It just went right over us."