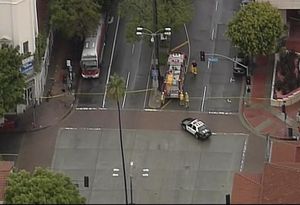 Westwood - An explosion occurred Tuesday morning near UCLA in Westwood, injuring one person.
Officials say that around 9:25 a.m., an explosion occurred in an underground electrical transformer vault at Westwood Boulevard and Weyburn Avenue.
According to the Metropolitan Transportation Authority, the blast sent a manhole cover into the back of a Metro bus, slightly injuring the driver, and reportedly blowing out some nearby windows. The explosion also caused minor damage to a nearby building and closed surrounding streets.
Electrical service was momentarily disrupted in and around Westwood and West Los Angeles. The Department of Water and Power was a sending a crew to investigate the problem.
Officials do not know what caused the explosion.