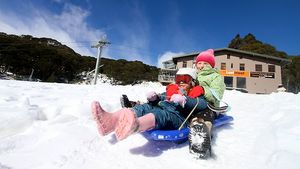 Melburnians have been swamped with enough rain in the past two weeks to last the month of May and more is yet to come.
Other parts of the state have seen their coldest start to May since records began, with snow already falling in low-lying areas.
Mt Baw Baw has been blanketed with more than 30cm of fresh snow as eager snowboarders take to the slopes well ahead of the official opening to the ski season.
Meanwhile, 2cm of snow fell on Mt Buller on Friday night as children flocked to the mountain for the early falls. And Mt Hotham has seen more than 30cm of snow in the past week.
Senior forecaster at the Victorian weather bureau, Dean Stewart, said snow was falling as low as 700m in an unusally cold start to the snow season.
"To see snow fall at such low levels is unusual for this time of year," he said. "Temperatures across the state, particularly in southern Victoria, are not expected to rise much in the coming days."
Melbourne has had more than 55mm of rain since May 1 -- more than the total May average -- and above-average rainfall is still expected for the rest of the month.
Melbourne's weather this week:
Today: Min 8 Max 16, partly cloudy
Monday: Min 8 Max 17, partly cloudy
Tuesday: Min 8 Max 17, partly cloudy
Wednesday: Min 7 Max 17, sunny
Thursday: Min 8 Max 17, partly cloudy
Friday: Min 10 Max 18, possible shower developing