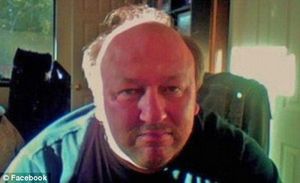 A Californian man died after being Tasered eight times by Police, according to witnesses.
Allen Kephart, 43, was pulled over by police in San Bernardino after running a stop sign, where officers say he became 'combative'.
The Party DJ and teacher's assistant was slammed on the ground and repeatedly shocked with Tasers, according to witnesses. He was then rushed to hospital where he was pronounced dead.
Mr Kephart's father, Jack, himself a 20-year volunteer for the sheriff's department, said officers used excessive force on his son.
Speaking to the
Los Angeles Times
he said: 'To me, it's not just a traffic stop. It's murder.
'You don't kill a person for running a stop sign.'
Jack Kephart said it was not in his son's nature to fight back, disputing the police account.
He said: 'He's [Allen] never raised a hand in 43 years.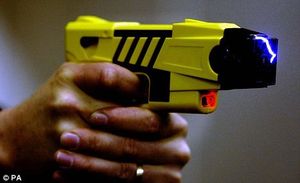 'He goes to church three times a week. He does the audio for the church in Crestline. He works three jobs.'
Mr Kephart added that officers should not have used the weapon on his son because he weighed 350 pounds.
He added: 'Those Tasers are deadly,They should know there could be problems ... using them on someone who is heavy.'
He is now considering suing San Bernardino police for the death.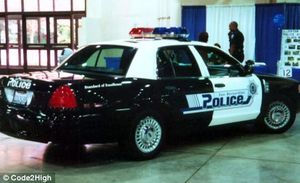 While Tasers are said to be the most effective 'non-lethal' weapons available to police forces, there have been other deaths resulting from their use.
This month alone, two men have died after the weapons were used on them.
A man died in after being zapped in a Connecticut hospital for causing trouble.
And earlier this month a bipolar man died in police custody after he too was shot with one of the weapons.
Speaking about Mr Kephart, sheriff department spokesman Cindy Bachman said: 'The deputy attempted to place him under arrest, at which time he was Tased.
'He became unconscious, and medical aid was immediately provided, CPR.'