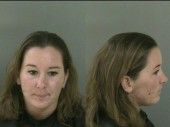 Florida - A mother and daughter were charged with animal cruelty after they recorded two dogs attacking and killing a pig in their backyard and posted the video on Facebook, Sheriff Deryl Loar said Thursday.
"Get him! Bite him!" shouted Janice Kay Ramirez, 55, as she recorded the five-minute attack by the cur mix dogs, according to the clip released by the Indian River County Sheriff's Office.
She and Ashley Ann Ramirez, 21, both of the 2300 block of 84th Court, Vero Beach, were investigated after someone anonymously sent a copy of the video to authorities in March, Loar said. Deputies had to subpoena Facebook to get the address for the home in the video. Ashley Ramirez was on the video coaxing the dogs to attack.
"It's one of the worst animal cruelty cases we've seen," Loar said about the attack on the pig, which managed to squeal throughout the ordeal despite its snout being closed with duct tape.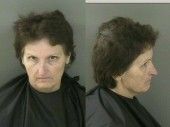 The women were charged with cruelty to animals and baiting animals Wednesday. They posted $10,000 bail each Thursday.
The video was posted on Ashley Ramirez's private Facebook page on March 3.
"You can see the dogs were hesitant at first," said Ilka Daniel, director of animal protection services for the Humane Society of Indian River and Vero Beach. "They were encouraged by their owners to attack. This is not the type of behavior these dogs normally do."
"You can tell they were enjoying this," Daniel said. "This was bloodsport. It's scary to see someone who has a lack of empathy for someone in suffering."
On Facebook, 40 comments were posted on the video, Deputy Luke Keppel said.
"Some of the comments were negative," Keppel said. "Some people agreed with what the women were doing."
Ashley Ramirez said the duct tape on the pig's mouth was to protect her dogs and to prevent the squealing from attracting the notice of neighbors, according to her warrant affidavit. The women told the Sheriff's Office they bought the pig at a local farm, Keppel said. The women do not live in an area where livestock is permitted.
"Their justification was they were going to kill the pig anyway," Detective Sgt. Nancy McNally said. "You can't justify this."
Indian River County took custody of the two dogs used in the attack. Authorities found 10 pit bull puppies and one Chihuahua at the home and turned them over to Janice Ramirez's ex-husband.