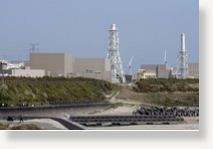 Chubu Electric Power Co. will begin shutting down the reactors at its Hamaoka nuclear plant tomorrow, after Japan's third-largest utility accepted a government call to idle them to address safety concerns.
The Nagoya-based company will start the process of shutting down the 1,137-megawatt No. 4 unit at Hamaoka around 3 p.m. local time tomorrow, Atsuo Sawaki, spokesman at the utility, said by telephone today. The 1,380-megawatt No. 5 reactor will be shut the following day, he said.
Chubu Electric this week agreed to Prime Minister Naoto Kan's call to close Hamaoka for as long as three years so it can build a sea wall and take other measures to protect the plant, which lies close to an active fault line. The station is located about 190 kilometers (118 miles) southwest of Tokyo.
An earthquake and tsunami on March 11 knocked out power equipment and cooling systems at Tokyo Electric Power Co.'s Fukushima Dai-Ichi station, causing the worst nuclear accident since Chernobyl and raising concern about the safety of other plants in Japan.
Chubu Electric delayed the shutdown work from today because negotiations with Tokyo Electric and Kyushu Electric Power Co. on power-supply agreements had taken longer than expected, Kyodo News reported.
The company is completing arrangements to avoid power shortfalls at the two other utilities, Kyodo said, citing Akihisa Mizuno, president of Chubu Electric.
Mizuno met Trade Minister Banri Kaieda yesterday and received assurances that Chubu Electric would be able to resume power generation at Hamaoka once the safety measures are implemented, Kyodo said. He also sought government support for Chubu Electric, according to Kyodo.
The utility estimates the additional safety measures including the building of the sea barrier will cost about 30 billion yen ($370 million).